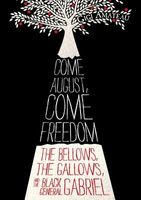 Come August, Come Freedom: The Bellows, the Gallows, and the Black General Gabriel
By Gigi Amateau
Published 2012 by Candlewick
In post-Revolutionary Virginia, there lives a man, named Gabriel. Gabriel is a slave. But he is also an educated man, one who believes that no man can truly own another. As Gabriel grows and continues to learn, he becomes more dangerous in the eyes of the slave owners. Does Gabriel have the power and knowledge to organize the slaves and start a rebellion?
This book caught my eye a few months ago because of its cover and synopsis. I'm a big fan of historical fiction and this sounding like a particularly fascinating story. I wanted to read more and discover how much of it was true. While I think this is an interesting and important story to tell, I'm not 100% behind the telling of it. One of my main interests in reading the book was to hear the story and then discover what actually happened and what the author had used her poetic license for. Unfortunately, there is no helpful author's note at the end of the book. A quick search leads me to her website, where she has posted her
research notes
on the story. I'm glad she has posted them somewhere for readers to discover, but I think they would be most useful included at the end of the novel. The opening chapter sets the tone for this book and I think it's beautifully done. Amateau has presented the heartbreaking reality of slavery simply. However, after this first chapter, the pacing is a bit uneven. If you've been following my reviews, you know that I have a thing about the passage of time in novels. This was another case where it didn't make sense to me. I often had a hard time telling exactly how much time had passed and, thus, couldn't really get a feel for the age of the main character. At times, I felt like he wasn't accurately portrayed for his age, but it was hard to follow how old he would be throughout the various episodes of the book. On the whole, however, I felt the characterization throughout was strong and believable. I loved seeing the relationship between Nanny and Gabriel develop, grown out of their mutual desires for freedom and each other. I also loved the author's use of historical documents in the text - they make the story feel that much more realistic. Overall, I thought this was a well-done book, bringing attention to a little-known historical incident in a moving way.
Thanks to the publisher for a digital advance reader's copy, provided via NetGalley.