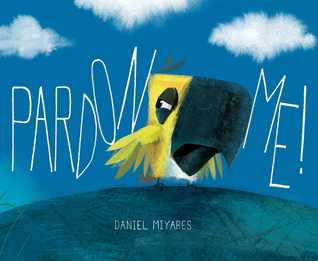 Pardon Me!
By Daniel Miyares
Published 2014 by Simon & Schuster Books for Young Readers
As much as I don't like birds, I couldn't resist the little guy on the cover of this one. He just looks so adorably grumpy that I had to see what his story was. He's just looking for some quiet but he keeps being interrupted by animals who want to share his rock. He gets less polite with each interaction, leading to a surprise ending. This will definitely make some parents a bit uncomfortable, but I thought it was fun and I think kids will enjoy the surprise of the ending. The illustrations are nice, with the vibrant yellow bird standing out on each page and the text doing interesting things across the pages. A fun story for kids looking for something a little darkly humorous.
Runaway Tomato
By Kim Cooley Reeder, illustrated by Lincoln Agnew
Published 2014 by Dial
This is very similar to
Cloudy with a Chance of Meatballs
, a children's classic which I adore. Unfortunately, though this is a fun story, it's not quite as good as that classic. For me, the best part of this book came in the illustrations. They are retro-style, with lots of different graphic elements that work really well. They make the unfolding of a pretty basic story a good deal more interesting than it would be on its own. The story will certainly appeal to some kids, but it was a little too plain for me.
Shark Kiss, Octopus Hug
By Lynn Rowe Reed, illustrated by Kevin Cornell
Published 2014 by Balzer + Bray
Charlie Shark and Olivia Octopus know what they want - Charlie wants a kiss and Olivia a hug. But they can't seem to find anyone willing to share their affection. The two embark on an adventure to convince people that a shark kiss or an octopus hug is just what their life was missing. But do they succeed? I think the outcome of this one will be fairly obvious to most adult readers, but it's kind of a cute story. There are definitely some bits of humor that kids will laugh along with. The illustrations are very expressive, especially the faces, which I really enjoyed. It's cute, but nothing terribly special.
Ninja Boy Goes to School
By N.D. Wilson, illustrated by J.J. Harrison
Published 2014 by Random House Books for Young Readers
I said it just a short time ago - ninjas are very in right now. I was a bit surprised to see a picture book written by the author of one of my favorite new-ish middle-grade series (The Ashtown Burials), but I knew I'd have to check it out, given the ninja craze. I liked that this book highlighted ninja skills in everyday settings and the illustrations are perfect for making this work well. However, it probably sends a message that most parents won't want (the little ninja boy just wants to practice his ninja skills, not do schoolwork) and I think the ending is a bit clumsy - to me, the last page just seems awkward. It's definitely not my favorite ninja story, but it does fill the ninja niche.