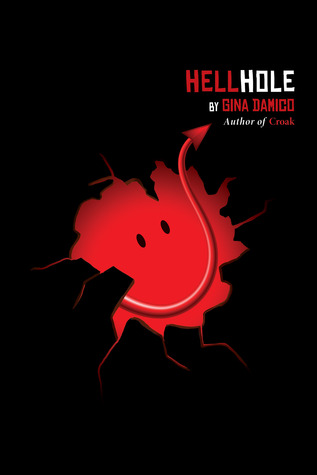 Hellhole
By Gina Damico
Published 2015 by HMH Books for Young Readers
Max cannot believe his bad luck. All he was trying to do was dig for dinosaur fossils. What he got instead was Burg - a devil. Yes, certified, from Hell, devil. But maybe it isn't so bad. Max makes a bargain - find Burg a home and in return, his mother will be cured of her chronic heart failure. Only, don't they say dealing with the devil is tricky business? Max is about to find out exactly how true that is.
I read Damico's debut a couple years ago and appreciated its snarky sense of humor and interesting mythology. I still haven't finished that series, but I spotted her newest title available for download and wanted to try to squeeze it into my reading.
Unfortunately, I feel pretty blah about this one. Once again, I enjoyed the humor - clearly Damico is great at capturing the hilarious and snarky experience of being a teenager. I didn't laugh as much as with her previous title - at times, it felt a bit over the top instead of actually funny. Also, I really liked the relationship between Max and his mom. I hope to someday be a mom that my kids think is cool, one they would choose to spend their Friday nights with, even when they're teenagers. Of course, I hope I don't have a fatal chronic illness, but I still liked their relationship. I also liked the relationship that developed between Max and Lore but I thought her character was unfortunately stereotypical.
Where this book really falls apart for me is its progression. It's overly long and not plotted out well. Max spends about 350 pages trying to uphold his end of the bargain. Then the last twenty pages are Burg's end of the deal and Max figuring out how to get rid of Burg for good and a glimpse at Max's happily ever after. After spending so long seeing Max struggle to balance being a good person with bargaining with a devil, the end was a complete let-down. It almost felt like Damico just decided to be done with the book and wrapped everything up as fast as she could. Not impressive at all.
Overall, definitely not as good as Damico's debut; a disappointment.
Thanks to the publisher for a digital advance reader's copy, provided via NetGalley.