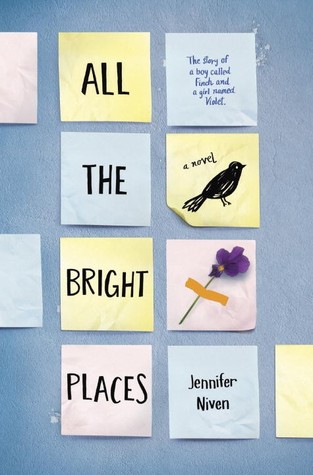 All the Bright Places
By Jennifer Niven
Expected publication January 6, 2015 by Knopf
Theodore Finch and Violet Markey meet unexpectedly in the bell tower of their school. Finch is thinking about ending it all but stops when he talks Violet off the tower. Seeing something in her, he chooses her as a partner for a school project, determined to get to know her better. Violet, initially resistant to Finch's aggressive friendship, begins to see something special. But circumstances beyond their control will interfere and neither will come out of this unharmed.
First, let's pretend this book is not billed as
The Fault in Our Stars
meets
Eleanor and Park
because the similarities between the three are rather few. This is obviously an advertising strategy. But, I was intrigued by this book as I've read a couple of Niven's adult books and enjoyed them, though this one is a significant departure from what I've read (her adult novels are historical fiction). I was also interested in reading a new book focusing on mental illness in young adults and Violet's grief over the death of her sister held appeal for me as well (as terrible as that sounds).
I'm a bit disappointed in this one overall, though there are several things I liked about it. I liked the dual narration - I think Niven does a good job of making Finch and Violet's voices distinctive enough to make it easy to tell them apart while reading. As I mentioned, Violet's grief over her sister's death was appealing to me - I'm always looking for new portrayals of sibling loss in books for young people. While I think Niven handled Violet's grief well, it's not the best example of this kind of loss I've seen and I was left wanting an even deeper exploration of it. Finch and Violet's Wander Indiana school assignment was great and inspired me to get back to wandering myself (incidentally, something I did a lot of while living in Indiana). I think their wanderings captured a lot of the teenage experience quite well and I appreciated Niven highlighting how much we should appreciate the beautiful and quirky of our country.
The other significant aspect of this book I enjoyed goes into SPOILER territory, so look away if you want to remain unspoiled. I appreciated that, in order to tell the most honest story, Niven let Finch kill himself. It was evident that, despite the perfect days he was sharing with Violet, Finch was dealing with a mental illness that was consistently overwhelming him. And he was dealing with it alone, despite his regular counseling sessions. I think the story would have felt false if Violet's relationship with Finch had somehow saved him from his suicide, though that would, of course, have been the happier ending. I also appreciated that Niven highlighted an important aspect of mental illness - the reluctance to be diagnosed. Finch's downward spiral seems to accelerate from the moment that an actual illness - bipolar disorder - is mentioned to him. Because of the stigma attached to mental illness, it's often quite difficult for those suffering to want the diagnosis because it makes them feel less than. Finally, as mad as it made me in the context of the story, I thought Niven did a great job highlighting Finch's parents' denial that anything could be wrong with their son. It can be deceptively easy to write off mental illness as simply one's personality, and I though Niven was smart in bringing this into the story.
So what didn't I like about the book? The relationship that develops between Finch and Violet had some uncomfortable feelings for me. Finch gets a bit obsessive in his pursuit of Violet and we are supposed to see this as heroic and endearing - he did save her life after all. But, it's a bit inappropriate in places. As much as I appreciated the realistic sex scenes between the two, I wonder if the book wouldn't have worked just as well had the two remained friends only. The ending was also a bit rushed and, perhaps, a little too convenient in places and a little too upsetting in others.
Overall, though, this is a good book for its subject and one that will definitely find an audience with teen readers.
Thanks to the publisher for a digital advance reader's copy, provided via Edelweiss.