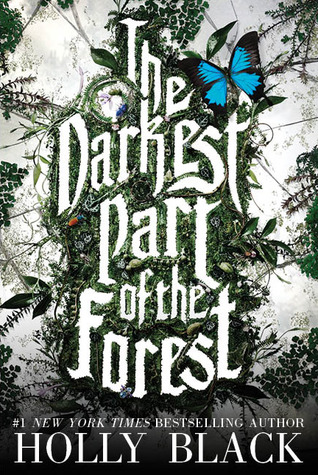 The Darkest Part of the Forest
By Holly Black
Expected publication January 13, 2015 by Little, Brown Books for Young Readers
For her whole life, Hazel has visited the horned boy in the center of the forest. He sleeps in a glass coffin and yes, he's real. Hazel and her brother, Ben, used to make up stories about him and Hazel believed that he was part of her destiny. But now the horned boy is missing and Hazel has received mysterious messages. Is it because of the deal she made with the Alderking years ago? Or is it something else?
I've had an interesting relationship with Holly Black's books. I really did not enjoy the first one I read (
Valiant
, one of her earlier Faerie novels), but I loved her Curseworkers trilogy. I felt pretty ambivalent about her foray into middle-grade literature last year, but I enjoyed her take on a vampire novel. So, when I spotted her newest title available for request, I figured why not give it a try.
Despite having not enjoyed the previous title I read that involved Fae and despite the fact that I feel pretty meh about faeries in general, I was prepared to enjoy this one. I thought the premise was really interesting. It hearkens back to fairy tales and what it might be like if a fairy tale came to pass in our modern world. I was also intrigued by the exploration of a sibling relationship - I continue to find myself drawn to books in which the sibling relationship is integral to the story.
When I started this book, I was on board. I thought Hazel was a bit manic pixie dream girl, but I liked that her deepest desire was to be a knight and kill faeries. I liked Ben a bit more, though I was a little put off when the narrative abruptly switched character focus. I assumed we were going to get just Hazel's story and the random chapters that focused on other characters didn't make a whole lot of sense to me (there was no pattern to it).
More than the characters, though, I was initially held captive by the town of Fairfold and the magic that surrounded it. I loved hearing the story of Jack and the theories surrounding the horned boy. I loved hearing about Hazel and Ben's gruesome adventures hunting faeries as children. I thought Black did a great job creating the world of Fairfold.
What's strange for me is that my interest began to wane when the action started to amp up. When the glass coffin is found shattered and the horned boy missing, I wanted to find out his story. But, beginning with the scene in the high school (when Sorrow starts to wreak havoc), I just felt my interest lessening. Right when I should have been sad to put the book down, I actually didn't care that much whenever I had to stop reading. Something about the second part of the book just didn't grab me. I also did not love the relationship between Ben and his suitor - it felt a bit too convenient for me. I appreciated having a gay character and I think Ben is the more interesting of the siblings but I thought his relationship was a bit too insta-love.
Overall, I enjoyed the setting and characters here but was less impressed with the plot and romance.
Thanks to the publisher for a digital advance reader's copy, provided via Edelweiss.