I Love You Night and Day
By Smriti Prasadam-Halls, illustrated by Alison Brown
Published 2014 by Bloomsbury USA Childrens
This is a nice general picture book about love - the relationship between the bear and the bunny is never defined, so it makes for a good overall depiction of love. It's also nice because it shows that love lasts even during times when someone is not being their best. The illustrations are soft and lovely - though it's not a bedtime story, it feels like a good one to share at bed time. The sentiment is nothing new but, for me, it never gets old.
Ninja Red Riding Hood
By Corey Rosen Schwartz, illustrated by Dan Santat
Published 2014 by Putnam Juvenile
I think I like this one even more than the first. In this book, the Wolf is humiliated from his encounter with the three pigs, so he heads off to ninja school for himself. He trains and earns his belt. Finally, his training complete, he heads out and encounters Red Riding Hood. Unfortunately, she's also trained at the dojo and is a worthy opponent. Will the Wolf ever get his tasty meal? These stories are fun and, as always, I love Santat's illustrations. This was a hit at my school outreach visits with second-graders. Wondering if there are more ninja adventures to come!
Hooray for Hat!
By Brian Won
Published 2014 by HMH Books for Young Readers
A grumpy elephant is cheered by the arrival of a hat. Sharing his festive hat will cheer all his friends as well. This is a very simple story but one that will be great for younger readers. The hats are varied but equally eye-catching and the animals all have distinct personalities. It's a good book to illustrate how a small act of kindness can cheer both the giver and the receiver. It also shows how kindness can snowball, putting everyone in a better mood.The illustrations are bright and simple, keeping the focus on the animals. Very fun.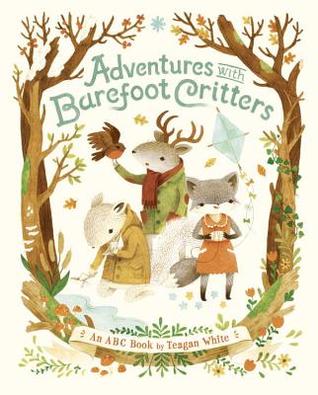 Adventures with Barefoot Critters
By Teagan White
Published 2014 by Tundra Books
I loved this book! It's beautiful! The illustrations are exquisitely lovely, featuring charming woodland critters (and a triceratops). I loved that this book explored the alphabet with a story rather than just a couple words per page. It also moves through the seasons during the story, so that's a bonus. I just found this completely charming and want to share it with everyone!