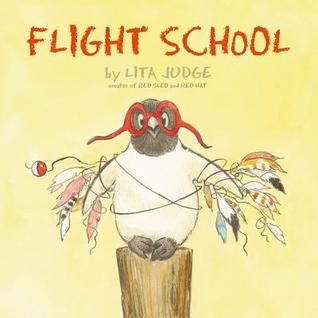 Flight School
By Lita Judge
Published 2014 by Atheneum Books for Young Readers
I really like Judge's illustration style - it's eye-catching and realistic but fun as well. This is an engaging story about a penguin determined to fly, whether he is built for it or not. It's a great book to teach kids about finding ways to achieve your goals and persevering. I really liked that getting Penguin to fly became a bit of a common goal for the other birds involved. It's a sweet reminder that you don't always have to go for your goals alone. This will definitely be making an appearance in bird storytimes in the future!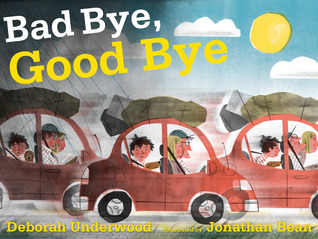 Bad Bye, Good Bye
By Deborah Underwood, illustrated by Jonathan Bean
Published 2014 by HMH Books for Young Readers
I've been hearing about this book for some time now - it's getting some buzz for the Caldecott Award. That was enough to capture my attention, but I've also enjoyed everything I've read by Underwood, so it seemed only natural for me to read this as well. It's not a very complicated story, showing the reactions and feelings one child has to moving. It's told rhythmically, which works surprisingly well here, and in pretty plain language. The illustrations are definitely unique, though it's not my favorite style. They certainly deserve your attention, though, and I can see why this book is being buzzed about. A good book to help kids deal with change.
Brimsby's Hats
By Andrew Prahin
Published 2013 by Simon & Schuster Books for Young Readers
You know, right from the cover, this seemed like my sort of book. A bit unusual and a bit stylish, but with a universal theme. Brimsby's life changes significantly when his best friend moves away and he begins to realize that he is a bit lonely. Can he find a way to cure his loneliness? Of course, he'll find a creative solution and make some friends as well. I thought this was a refreshing take on the friendship story, with very modern illustrations that will definitely appeal to today's children's sensibilities. A sweet story.