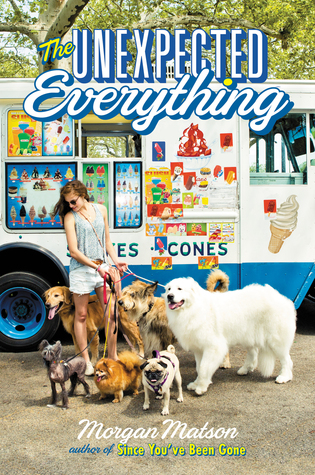 The Unexpected Everything
By Morgan Matson
Published May 3, 2016 by Simon & Schuster Books for Young Readers
Reviewed from e-ARC
Andie's summer plans were set - she'd be off to a pre-med course, have a summer romance, and keep in touch with her friends. But then, her politician father is embroiled in a scandal and her recommendation for the pre-med session is withdrawn. Now, Andie finds herself sharing a house with her father for the first time in years and with no job during what is arguably the most important summer of her pre-college career. Is there any way this summer can be redeemed?
Though I've only read one of Matson's previous titles, I always want to read them. I really enjoyed my first experience reading her and I've looked forward to replicating it. When I spotted this one available for review, I snatched it up, eager to read a contemporary novel instead of yet another fantasy.
The good: Matson does romance well. This is a very sweet romance, but also a very realistic one. Andie's previous relationships have been extremely casual and she has no reason to suspect that this summer's will be any different. As a result, the hesitancy and tumult of emotions she feels when it does start to take a different path felt very genuine. Similarly, Matson does a great job with the rest of the relationships in the novel. The friendships between Andie and her three female friends really made me miss my own high school girlfriends. It's a very specific kind of love that young women share during their high school years and Matson does a great job capturing it. One caveat: I did have to do a significant amount of eye-rolling at how stunningly attractive Andie and all her friends are. Can't we just have some plain ladies once in a while?
The relationship between Andie and her father is also very realistically portrayed. While I've no idea what it might be like to be the daughter of a mostly absent politician, I do know what it's like to feel that your parents' choices have intruded on your ability to make choices of your own. I thought her confusion of feelings at the unexpected presence of her father in her life was also very believable and I enjoyed watching them trying to navigate each other.
Finally, I really appreciated that not everything turns out sunshine and roses in the end. While, for the most part, Andie gets her various happy endings, there is one storyline that isn't tied up in a nice little bow. That, once again, felt very realistic to me - high school is rough and not everything is going to turn out like you want it to. There is enough happiness for those invested in Andie's HEA, but I appreciated that there was still a bit of conflict as well.
The bad: this book is LONG. Over 500 pages. What's the last contemporary novel you read of that length? I can't name one, particularly not one for teens. With about 150 pages left, I started to wonder what else could possibly happen in this book. I think it could have done with some trimming and been just as fulfilling a story as it is.
Overall, a very enjoyable and sweet summer read. Recommended for romance fans. Thanks to the publisher for a digital advance reader's copy, provided via Edelweiss.