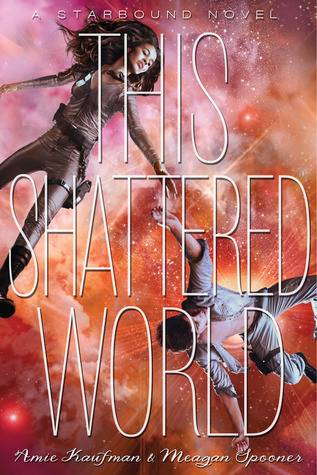 This Shattered World (Starbound, book two)
By Amie Kaufman and Meagan Spooner
Published 2014 by Disney-Hyperion
Read my review of book one here.
Jubilee Chase is one of the youngest and fiercest soldiers stationed on Avon - and, so far, the only one immune to the Fury. Flynn Cormac is a native to Avon and the brother of its most infamous rebel, but Flynn longs to find another way. A split second decision brings Jubilee and Flynn on a collision course with consequences not just for Avon, but for the entire Galactic Council.
So, despite my deep distrust of all things set in space, I read and quite enjoyed the first book in the series. My fiance recently listened to the first book on audio, so when I checked out the next book for him to read, I decided to read it as well.
I was particularly interested to see how the series would work, being set in the same universe as the first but featuring new characters. While it initially took me a while to warm up to these new characters, I really liked this approach. It has worked for me in a few other series I've enjoyed (Diana Peterfreund's
For Darkness Shows the Stars
, Carrie Ryan's
Forest of Hands and Teeth
), so I'm not surprised to have enjoyed it here. It makes all the more exciting that moment when the characters from previous books make their appearance in the new book. I thought it was handled particularly well here - I was actually cheering out loud!
Anyway, I actually think the story here is stronger than that of book one. I felt that book one focused a lot on the star-crossed romance (which I didn't really buy into - the star-crossed part, not the romance part) and the others parts of the plot were secondary. Here, I really enjoyed the main storyline - Flynn's desperate attempt to solve the mystery of his planet's delay and what that means for Lee. I really enjoyed reading about both sides of the story and it was heartbreaking to see how far the rebels were willing to go to bring justice to their cause. I think part of the reason why this book is stronger is because it builds on the foundation of book one, deepening the conspiracy and amping up for what is sure to be a catastrophic finale. I am definitely looking forward to book three.
Once again, I think the unique qualities of the world created here are interesting. I'm starting to wonder if maybe I don't hate space as much as I thought I did. Like I said, I'm very much looking forward to book three, and I'm interested in reading more by these authors - I know Kaufman has a new series launching in the fall that sounds really intriguing. Highly recommended.