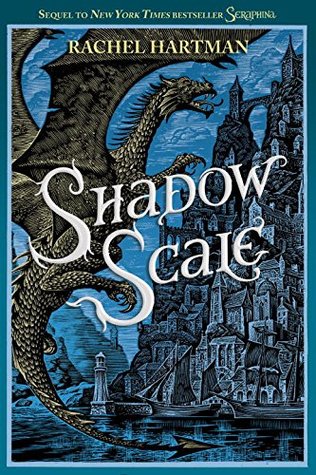 Shadow Scale (Seraphina, book two)
By Rachel Hartman
Published 2015 by Random House Children's Books
To read my review of book one, go here.
Goredd has lived in an uneasy peace for all of Seraphina's life but, after recent events, it seems the peace will be no more. Knowing that she is specially poised to play a role in avoiding a truly catastrophic war, Seraphina sets out to unite her people and hopefully save her home.
This was one of my most anticipated books of the year, so I happily put my name on the holds list as soon as possible. I knew I probably wouldn't be in for a quick read, but I very much looked forward to enjoying this one.
I definitely did. Everything I loved about the first book was at play again here - it's an epic fantasy with an extremely rich and complex world and mythos. I still love what Hartman's done with the dragons - I find them fascinating. I liked that other parts of dragon society are explored in this volume, and I particularly enjoyed the time spent among the quigutls - an area previously unexplored.
What I loved most is, I think, what many other people have been complaining about but what I've looked forward to since finishing book one - the denizens of Seraphina's garden. Yes, she spends an extremely long time searching for and meeting the inhabitants of her garden in the real world. But I found them all fascinating, and I loved seeing how the version of them she had in her head related to them in real life. Ooh, and Jannoula - what an incredibly fascinating character Hartman created in her! I am amazed at the creativity that has clearly birthed all these unique and astounding characters. I'm impressed that I grew to care for them as deeply as Seraphina in just one novel and I mourned the loss of some right along with her. I was thrilled to spend the time alongside Seraphina finding the half-dragons and attempting to unite them.
But, what I really missed was the relationship with Kiggs. As Seraphina spends the majority of this book travelling about in her efforts to unite the ityasaari, she doesn't spend much time with Kiggs. The time that they do spend together doesn't feel quite the same as it did in the first book - their banter and longing mostly seems to be missing. Additionally, I thought the little plot twist with Glisselda made Seraphina into a bit of a Mary Sue - it felt out of place for me. In the end, I found the wrap-up of the romance supremely unsatisfying - I had too many questions. I think I can see what Hartman was trying to do with it, but I wanted more of Kiggs and Seraphina together, the way they were.
Overall, then, I loved the characters and plot, but I missed the romance (something I never thought I'd say). I'm sad that this is only a duology, but I hope Hartman will take advantage of the rich world she's created here and return, even if it is with other characters.
A quick aside here: today is my 4-year blogiversary! (It feels like much longer - haha!) I have written almost 1000 posts here. Any ideas for what specialness I should do for my 1000th post?