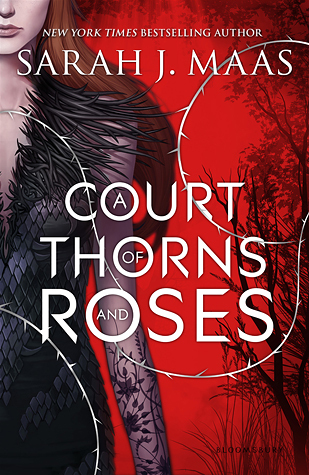 A Court of Thorns and Roses (A Court of Thorns and Roses, book one)
By Sarah J. Maas
Expected publication May 5, 2015 by Bloomsbury Children's
Feyre has learned to be a survivor - she can't rely on any of her family members, so she must rely only on herself. But when she kills a wolf, her survival skills have unexpected consequences. Now, she is carried off to the land of the faeries, where she must live with Tamlin, a high lord and a creature of legend. Not all is as it seems in this land, though, and soon Feyre finds herself on a dangerous quest to save not only herself, but the faeries she has grown to care about.
This is one of the most anticipated new series in YA fiction this spring. Maas is already a wildly popular author, thanks to her first series (which is still ongoing). Despite winning her first book in a contest, it remains on my shelf, unread (I swear I'll get to it someday!). But when I saw this listed as an auto-approval for me on NetGalley, well, I couldn't resist the call of the buzz.
It's not difficult for my to see why Maas is a popular author - this book sucked me in from page one and held me until the very end. I was impressed with nearly every aspect of this book - the characters, the world, the romance, the plot, the ending. I thought it was all done incredibly well. If this book is any indication, I am very much looking forward to going back and reading Maas' other books, as well as anticipating the next title in this series (which really needs a shorter series name!).
As I said, nearly everything about this book impressed me, so let me break it down just a bit, starting with the characters. Feyre is a complete badass. She reminded me of Katsa and Bitterblue combined - a fierce woman who has been forced to endure tragedy but must find a way to keep herself afloat. She has little interest in letting anyone get close to her - they will just become another person she must protect, if they don't disappoint her first. Each member of her family has their own unique struggle as well, and I really liked the variety of relationships demonstrated amongst them all. The characters in the faerie world are all great as well. I loved Tamlin - of course (SWOON - and I do that rarely!) - but I also really loved Lucien and Rhysand and the villain. All unique and all richly developed. Oh, and I'd like to point out that Rhysand definitely has a Darkling vibe, which I loved, so I'm looking forward to how that will develop in future books.
Also excellently developed is the world. Feyre inhabits multiple worlds throughout the course of the story and they are all described very evocatively. I loved the complexity of the faerie world, with its court system and the curse that has sickened it and threatens to spill into the mortal world. The magic system is intriguing and, like I said before, the villain is truly horrible - which worked beautifully here. I loved the intricacies and complexities of the world here and there is so much more to explore that I can easily see this series running for many, many more books.
The romance - whew! Sexy times are sexy in this book. Be aware of that as you're recommending this one; it does not shy from the sexual content. I appreciated the way Feyre's sexuality was handled, though, and I think mature readers will appreciate it as well. Obviously, I knew how the romance would develop (this is being billed as kind of a
Beauty and the Beast
retelling, so it's not hard to figure out), but it was still interesting to become invested in it.
I thought the plot moved along at a steady pace. Like I said, I was hooked from the first page and stayed enthralled until the end. It's no short journey from start to finish - over 400 pages - but I think it keeps readers engaged throughout. And I thought the ending was really well done - I loved the tasks that Feyre had to complete (well, they were pretty awful, but you know what I mean) and I thought Maas pulled it together in the end quite nicely. My one complaint is that it felt very obvious to me that she wanted to make this a series - there is a little moment in the last few pages that feels like its only purpose is to set up a storyline for the sequel, and I'm not sure it needed to be there. As I mentioned previously, even without that moment, there is plenty more of this world to explore in future books, so that little moment felt a bit unnecessary. But, we'll see how it plays out in the series going forward.
Overall, this was a thoroughly enjoyable read, definitely recommended for fantasy fans. I'm excited that I have several other books by Maas to enjoy while I await the sequel to this. This is definitely going to be a hot summer read.
Thanks to the publisher for a digital advance reader's copy, provided via NetGalley.