This Book Just Ate My Dog!
By Richard Byrne
Published 2014 by Henry Holt and Co.
I mean, this book is exactly what it sounds like - completely breaks the fourth wall when Bella, the main character, walks her dog, who is then summarily devoured by the spine of the book. Kinda weird and maybe a bit disturbing, but interactive and different. I'd have to use this with a group of kids to see gauge their reactions to it, but it was just okay for me.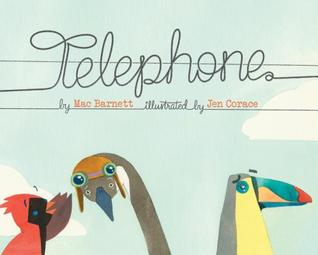 Telephone
By Mac Barnett, illustrated by Jen Corace
Published 2014 by Chronicle Books
Once again, this book is exactly what it sounds like - the characters are playing a game of telephone. In this case, the characters are birds on a telephone wire - just for extra punniness. Mama bird wants to get a message to her baby bird, so she sends it down the line. Of course, as we all know, the message gets garbled along the way. Each bird seems to hear the message based on its interests (which we get clues to through their appearances). Everything works out in the end, and this is a fun book. The illustrations strike me as rather sophisticated, though I think the complement the simplicity of the text pretty well. Obviously, this is a good way to teach about rumors and the art of listening.
The World According to Musk Ox
By Erin Cabatingan, illustrated by Matthew Myers
Published 2014 by Roaring Brook Press
I've been a big fan of Musk Ox's previous books, so I was pretty excited to see the newest one. Musk Ox and Zebra travel the world, exploring continents and landmarks. The trademark humor is once again present, rife with puns and visual humor. The illustrations are, once again, bold and eye-catching, and I just love the style. My main complaint about these books is that they're not really meant for storytime settings. This makes me sad because I want to share them as much as I can!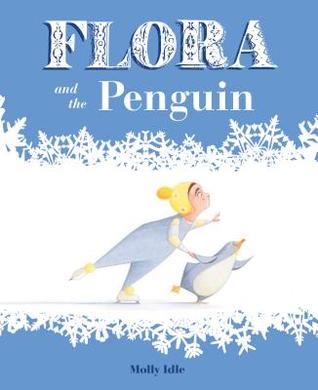 Flora and the Penguin
By Molly Idle
Published 2014 by Chronicle Books
Please, please, please tell me this means that we are going to get a whole beautiful series of Flora books! As much as I'm terrified of birds, these books are too lovely to ignore. I would absolutely relish a series of books with Flora dancing with a different kind of bird in each - I hope Molly Idle is listening! In this volume, Flora tries her hand at ice dancing with a new penguin friend. Soon, though, Flora gets a bit of a big head. Can she and the penguin collaborate again? I wish I had even a fraction of the talent of Idle - I just want to frame every page of this book and hang it on my wall. Simply lovely to look at, this is a book I'll be giving to the special children in my life for a long time to come.