The Right Word: Roget and His Thesaurus
By Jen Bryant, illustrated by Melissa Sweet
Published 2014 by Eerdman's
This is the picture book biography of Roget, the man behind the most famous thesaurus. Being a book nerd, I gravitated to this immediately. But, even if I wasn't, it's a hard book to ignore. Sweet's illustrations are absolutely stunning and really help make this book a whole package. These illustrations are meant to be savored time and again, discovering something new each time. Bryant excellently incorporates the use of synonyms throughout Roget's life story in a way that feels natural and emphasizes his desire to create a thesaurus. Everything about this book is just lovely, and it was one of my favorite for the Youth Media Awards, so I was not surprised to see it receive a Caldecott Honor and the Sibert Medal.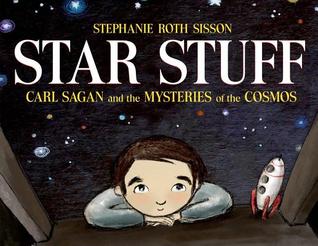 Star Stuff: Carl Sagan and the Mysteries of the Cosmos
By Stephanie Roth Sisson
Published 2014 by Roaring Brook Press
This is a simple and appealing picture book biography of Carl Sagan. It explores how he initially became interested in the cosmos. Both the text and illustrations depict science a bit dreamier than in other science books for young people. The information is here but it's not presented as simple facts and figures. It's presented in an engaging way, one that I imagine will trigger the desire to explore space in other young people. Unlike many other picture book biographies, this one is legitimately age-appropriate, explaining concepts in ways that children who gravitate toward picture books will understand. I really appreciated this book - another lovely non-fiction read.
Mr. Ferris and His Wheel
By Kathryn Gibbs Davis, illustrated by Gilbert Ford
Published 2014 by HMH Books for Young Readers
Can you tell that a bunch of non-fiction picture books arrived in the library at the same time? I have a hard time resisting these books - they are short but I always learn something I probably wouldn't have discovered otherwise. This is the story of George Ferris and the invention of the Ferris wheel, as well as its introduction to society. There is lots of information in here, but it's really interesting, and budding young inventors will definitely be intrigued by Mr. Ferris. His story is a great story about innovation and perseverance and I think this book highlights that really well. The illustrations are bright and captivating as well. Very cool.
The Storm Whale
By Benji Davies
Published 2014 by Henry Holt and Co.
A story about a lonely little boy who brings a whale home after it is washed ashore during a storm. The boy is lonely because his father is busy working all day, so the boy treats the whale as a companion. A sad start but, of course, there is a happy ending here. For me, the strength is more in the illustrations - they definitely speak of the sea and the shore. Compared to the illustrations, the story is not as captivating for me.