Firebird
By Misty Copeland, illustrated by Christopher Myers
Published 2014 by G.P. Putnam's Sons Book for Young Readers
This is a very simple exploration of Copeland's career path to becoming the dancer she is today. It is inspiring, and will definitely encourage young women, particularly those of color, to dream big. I wanted to like this book more than I did, though. For me, the text stumbles a few times and didn't really achieve the level I hoped for. The illustrations are nice - they capture the beauty and movement of dance quite well. I wish a bit that the book hadn't focused specifically on the Firebird role - one that I'm not at all familiar with - and been just a bit more general, but maybe that's just me.
Louise Loves Art
By Kelly Light
Published 2014 by Balzer + Bray
This is a great story about both art and siblings. Louise loves creating art and she loves her little brother, Art, as well. But when Art tries to help Louise with her other love, he helps in that way that all people who've known helpful young children will recognize. Louise very gracefully forgives and helps Art discover how he truly can be helpful. It's a very sweet story and the illustrations are great as well. A new fun title for talking about art with kids.
The Iridescence of Birds: A Book about Henri Matisse
By Patricia MacLachlan, illustrated by Hadley Hooper
Published 2014 by Roaring Brook Press
This is a very simple yet beautiful book about a young Matisse and how he found the inspiration to become the artist he is known as today. MacLachlan's prose is absolutely stunning - just a few words per page but they add up to something quite beautiful indeed. Hooper's illustrations are soft and complement the text excellently. I loved how evident it was exactly what level of work went into creating this lovely book. I quite love the rise in wonderful picture book biographies.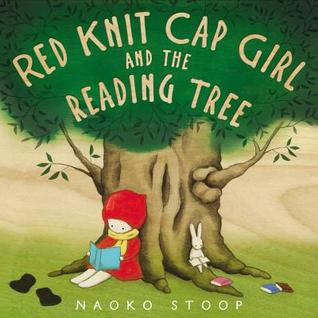 Red Knit Cap Girl and the Reading Tree
By Naoko Stoop
Published 2014 by Little, Brown Books for Young Readers
I picked this up because I love Stoop's style - she's actually an artist I discovered on Etsy before she had published anything. I find Red Knit Cap Girl quite charming and, of course, her reading tree appeals to me as a librarian (with some minor concerns for the welfare of the books kept in said tree). It's a cute story about the value of libraries and reading without being too in your face. The illustrations are just so charming. I'm not sure how kids will feel about it; I'd love to have a library-themed storytime to find out!