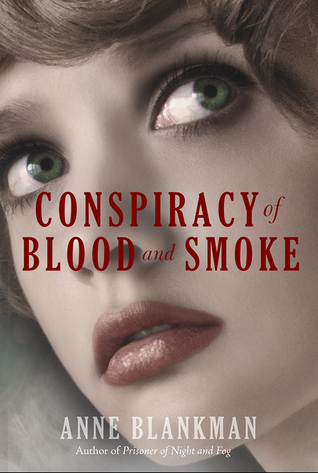 Conspiracy of Blood and Smoke (Prisoner of Night and Fog, book two)
By Anne Blankman
Expected publication April 21, 2015 by Balzer + Bray
Read my review of book one here.
Gretchen has escaped from under the thumb of her Uncle Dolf and found a peaceful new life with her beloved Daniel. But Uncle Dolf has not slowed down and it's only a matter of time before he becomes the most powerful man in Germany. When Daniel's cousin is attacked, he returns to Germany, only to be accused of murder. Can Gretchen and Daniel clear his name and find a way to stop Hitler and the National Socialists?
After my ambivalent feelings about book one, I was hesitant to come to book two, but willing to give it a try. When I spotted the e-galley available, I downloaded it and got busy reading.
Many of my criticisms of book one hold true for this volume as well. I generally find Gretchen to be the least interesting of the characters, despite her being the protagonist. This book was especially difficult to truly become invested in because Gretchen and Daniel have been separated from the characters we met in book one. I think one of my favorite parts here was the reappearance of Gretchen's former best friend (and Hitler's mistress), Eva. It's fascinating to see her at the beginning of her long and tumultuous affair with Hitler and how it has changed her, particularly in Gretchen's eyes. Once again, Gretchen's internal struggles don't feel terribly authentic to me, though the source of her struggles is different in this volume. Here, much of the focus of Gretchen's angst is on figuring out how she and Daniel can have a happily ever after, which really seems pretty unlikely considering the time and place their story is set.
Additionally, as in my review of book one, much of the worldbuilding here in book two feels like an infodump. The entire storyline of Gretchen and Daniel and the ringverein seemed to exist because it was an interesting bit of information that Blankman stumbled upon and wanted to fit into her story somehow. It works, but it felt a bit forced. The romance feels very melodramatic in this one and, as I said, I was not expecting a happy ending for the couple (I won't tell you whether I was right or not), so mostly I was bored by Gretchen's dithering over how to make things work between them.
Again, where this book works for me is in the central mysteries - that of the Reichstag fire and the murder for which Daniel has been framed. The added temporal pressure of the Enabling Act also ratcheted up the tension for me. However, it wasn't until the author's note that I realized this series was to only be a duology - in the note, Blankman outlines the fates of most of the real-life figures involved in her story, making it clear that this would be our last interaction with them. I would have been intrigued to see what Blankman could have done by continuing the series during World War II, but it would have almost certainly had a very tragic ending.
Ultimately, an interesting piece of historical fiction, exciting enough to recommend to reluctant genre readers. Thanks to the publisher for a digital advance reader's copy, provided via Edelweiss.