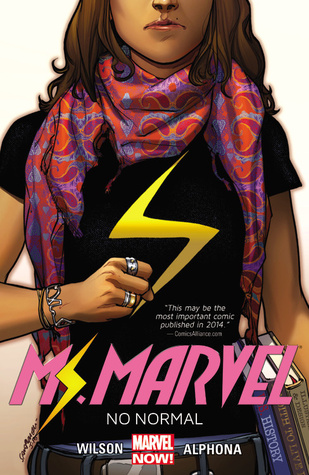 No Normal (Ms. Marvel, Volume One)
By G. Willow Wilson, illustrated by Adrian Alphona
Published 2014 by Marvel
Kamala Khan loves superheroes but she never imagines she could be one herself. Inexplicably, though, that is exactly what happens. Now, Kamala must figure out what being a superhero means - particularly for a Pakistani American Muslim teenager.
I picked this one up for YALSA's Hub Challenge and because I'd heard lots of rave reviews about it. I figured it was time to see what the fuss was about.
To be honest, I didn't love this one. I wanted to like it more than I actually did. However, I think this is completely my own personal bias - I've never really read superhero comics and I don't have a lot of interest in them (in fact, I kind of roll my eyes at the sheer amount of superhero comics that exist). When I pick graphic novels, I tend to choose the ones that more closely resemble my other reading interests - horror, historical, mystery, literary, etc. That's not to say that I would never enjoy a superhero comic, but, generally speaking, they're not really my bag.
So, perhaps I was predisposed to be a bit underwhelmed by this one. I appreciated the diversity of the main character and female superhero - YAY! But, I felt like most of the characters were not developed beyond a superficiality and that was disappointing. Also, while I liked Kamala's journey to figure out how best to use her powers, I thought the actual plot was pretty uninspired. Obviously it hints at bigger bads to come, but I just didn't find it all that interesting. That being said, I'll probably check out the next volume, but my expectations will be much lower this time around.