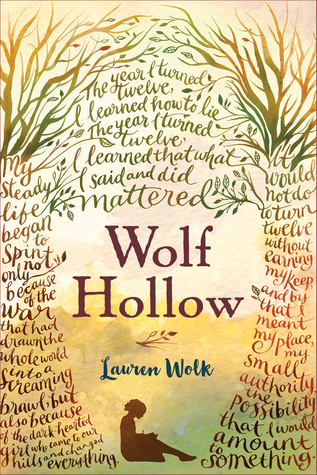 Wolf Hollow
By Lauren Wolk
Published May 3, 2016 by Dutton Books for Young Readers
Reviewed from e-ARC
Annabelle lives a quiet life until the day Betty walks into her life. Betty is a bully, and has chosen Annabelle as the object of her torment. While it's not pleasant, Annabelle thinks she can manage. But then, Betty sets her sights on Toby, a reclusive and odd veteran who has always been kind to Annabelle. As the situation quickly escalates, Annabelle learns to find her voice.
Nearly all of the reviews I've seen for this one include nothing but praise. For better or worse, this review is not that. Objectively, I can see that this is a finely written coming of age tale. But, as someone reading this book for pleasure, I just didn't like it. My first problem with this is that it's narrated by an older Annabelle telling the story of this pivotal moment in her life. While I think this can be a powerful narrative device, I always find it an odd choice in books marketed to a younger audience. Maybe I'm wrong, but I feel like this puts a distance between the reader and the narrator and makes a book that might already be a tough sell - historical fiction, bordering on didactic plot, slowly paced - an even more difficult one.
As I said, it's a well-written piece of literature, but sometimes I wonder also at the choice of a prose-heavy story in a book for young readers. In my experience as a youth librarian, it is a small portion of a young audience that is going to value a lushly written story over one that is action-packed.
Perhaps my biggest personal stumbling block comes simply because of my stage in life. Of course, I remember what it's like to be a kid and be afraid of speaking up on the side of right; certainly, I was an extremely shy kid and hated having to speak to authority figures. However, I couldn't help but think that if Annabelle had only told her parents when Betty's bullying first began, the subsequent tragedies might have been avoided. From what we're given in the text, Annabelle has a very close relationship with her parents, so her hesitancy at speaking to them from the onset struck me as a bit odd. Once again, this may have more to do with my reading this as an adult, but it was something that bothered me throughout the entire reading.
Overall, I didn't enjoy this one, and will have a hard time selling it to my readers. Thanks to the publisher for a digital advance reader's copy, provided via Netgalley.