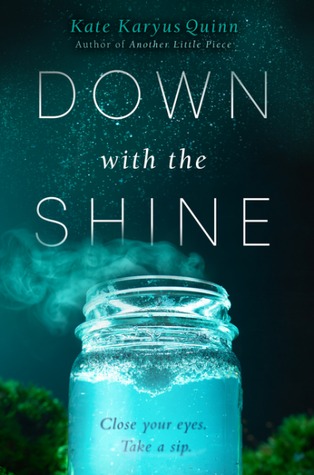 Down with the Shine
By Kate Karyus Quinn
Published April 26, 2016 by HarperTeen
Reviewed from e-ARC
Lennie has had a rough life and has never really looked forward to inheriting her family's moonshine tradition. In the aftermath of her best friend's murder, she decides she needs to live life more fully, so she sneaks some of that moonshine to a party. She shares it with everyone she sees, making a traditional toast each time. But when she wakes the next morning, she learns that the family legacy is much more than just making the moonshine - and she finds herself wishing she hadn't made so many toasts the night before.
I read Quinn's previous novel,
Don't You Forget About Me
and felt a bit conflicted about it. When I spotted her latest available in galley form, I figured I'd give her another shot. It sounded like my kind of weird.
I wasn't wrong - I very much enjoyed this one. It is a strange journey, but also quite amusing and, at times, heartfelt. It was a very quick read and had me laughing at loud in parts. The focus is definitely on the plot and less on the characters, which I think is part of what makes this a quick read. It is dark and funny - two of my favorite things - so really, it would have been pretty hard for me to not enjoy this one. That being said, I can see that this has a very specific appeal - in fact, I can think of several people who, despite loving YA, humor, or darker stories would not enjoy this one. That being said, I tend to think that teens really go in for black comedy, so I hope it finds its audience. As a bonus, I thought the ending was very clever and really worked with the book as a whole. I definitely recommend this one if you like your funny on the dark side.
Thanks to the publisher for a digital advance reader's copy, provided via Edelweiss.