Sleepover with Beatrice and Bear
By Monica Carnesi
Published 2014 by Nancy Paulsen Books
Beatrice and Bear meet in spring and become fast friends. But what happens in winter when Bear needs to hibernate? How can the friends share the season?
They certainly try and it's adorable seeing how much they want to spend the time together. It's a very sweet story of friendship that would be great for the storytime crowd. The pictures are just as charming as the story - very expressive and sweet. A new favorite!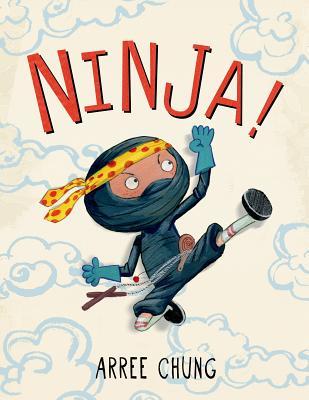 Ninja!
By Arree Chung
Published 2014 by Henry Holt and Co.
Ninjas are very popular right now - so much so that I even had a ninja-themed storytime this fall. This is a fun book, showcasing a ninja on a mission. There may be danger, but a ninja is always prepared. I like the arrival of a new little ninja at the end of the book and the simplicity of the text - one or two words per page. A good choice for young ninja fans, though it's not my personal favorite of the new crop of ninja stories.
The illustrations are cartoon-y, which will appeal to kids, but the style is not one I love.
The Very Cranky Bear
By Nick Bland
Published 2014 by Orchard Books
This is an adorable story with illustrations that really pop. Three friends seek shelter from the rain in a cave, only to discover the cave is occupied. How can they make this bear less cranky? Hijinks ensue, sure to delight a young audience. Of course, the animal left out in the cold is the one with the successful idea. It's a lot of fun, energetic and lively. I really enjoyed this one and look forward to sharing it with kids.
Little Green Peas
By Keith Baker
Published 2014 by Beach Lane Books
The energetic peas are back - this time, to teach about colors! I think the peas are absolutely adorable and I love the illustrations - there are lots of details to examine and discover. But, for me, this concept didn't work quite as well as the first book. It is great for sharing but the colors are sometimes confusing, not highlighted properly and I find it strange that brown was not included (it's a very important color!). It's definitely fun and I think kids will like it, but I might just be over the peas.