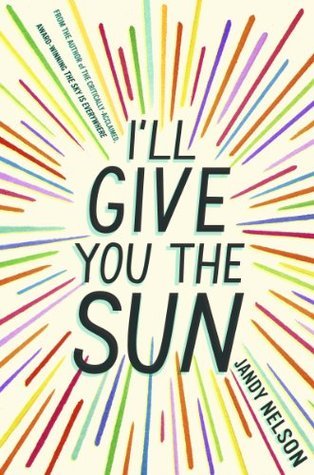 I'll Give You the Sun
By Jandy Nelson
Expected publication September 16, 2014 by Dial
Jude and Noah are twins and are extremely close - sometimes the only comfort they can find is with each other. They both love art and are encouraged by their mother to explore their talents. But what happens when it appears that one twin's talent shines brighter than the other? And what happens when a tragedy makes the twins nearly unrecognizable to each other?
I started hearing buzz about this book some time ago and I was anticipating it. I had listened to Nelson's first book (the spectacular
The Sky is Everywhere
) and definitely looked forward to whatever she came up with next. So I snatched this one up as soon as I saw the e-galley available.
I devoured this book. I read a huge chunk of it one morning, and then a few smaller pieces the next couple of days, and then the last 200 pages probably in one fell swoop. I desperately needed to read this book - I wanted nothing more than to return to its pages. That is largely due to Nelson's prodigious authorial talent. Much of what I said in my review of Nelson's debut holds true for her sophomore effort as well. The writing is absolutely enchanting - her descriptions of art and the artistic process held me in their thrall and made me wish that I could create in the ways she described. They left me awed by the talent it takes to make art. I'll be the first to admit that I'm a sucker for beautiful prose and Nelson certainly has me swindled.
I loved the way that she chose to tell this story as well. It's a dual narrative, so readers get to hear both Jude and Noah's perspectives. Cleverly, though, Nelson has set the narratives in different times as well - Jude is narrating in the present day and Noah's narrative begins three years earlier. Both progress forward in time, so Noah's narrative moves closer to the tragedy that tears the twins apart, while Jude's gives readers perspective on the state of their relationship in the present. The entire narrative is kind of like a puzzle - the full details of what tears the twins apart are not known until late in the novel, slowly revealed in bits and pieces through both narratives. I loved this choice - I loved the not knowing, the suspense of wondering about the details. I thought it worked really well. And I particularly loved coming to the end and seeing all the details together, how everything connected into a beautiful, complicated story.
The characters are lovely as well. Twins are a source of nearly endless fascination for anyone who's not a twin, and I think having the dual narrative really helped this book. The voices of the twins are similar but also distinct. I found them believable and completely engrossing. I rooted for these characters so hard. I fell completely in love with both Jude and Noah in turns, though it was never easy to love either of them completely. Parts of this book made me laugh, other parts made me cry, and a few times I actually gasped and covered my eyes with my hands.
The more I write this review, the more I think about this book, the more I love it. It's absolutely beautiful, heartbreaking and hopeful. Definitely a book to get yours hands on as soon as possible.
Thanks to the publisher for a digital advance reader's copy, provided via Edelweiss.