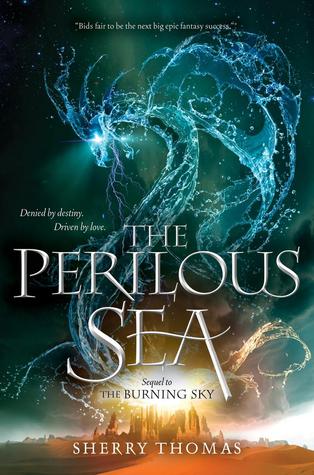 The Perilous Sea (Elemental Trilogy, book two)
By Sherry Thomas
Published 2014 by Balzer + Bray
WARNING: Spoilers for book one. To read my review of The Burning Sky, go here.
Iolanthe is on the run and Titus is doing everything in his power to protect her. But how can he protect her when suspicion lies all around? And what if she's not actually the Chosen One?
I requested the first title because I'm a big historical fantasy fan and I enjoyed it enough to keep my eyes peeled for the second book. Unfortunately, I didn't get this review done before its release, but it's only a couple days late.
Everything I enjoyed about book one was back in full force in book two - I still loved the banter between Iolanthe and Titus and actually appreciated the relationships between all of the boys. I like that a couple of the other characters got a chance to play a bigger role in this one. I still would like to know more of Titus' story, but I think I like Iolanthe as much as him. Once again, Thomas explores what a prophecy means and how easily it can be self-fulfilling. I guess I forgot some details of the first book because Thomas once again suggests that perhaps the prophecy does not actually apply to Iolanthe. It provides the main source of conflict for a good portion of the book, as Iolanthe and Titus are no longer just friends and this effects their relationship. Once again, I was a bit disappointed in the lack of the Bane - if he's going to be such a terrible villain, he probably needs to actually be present a bit more. Thankfully, Thomas did provide more details about the terrible things the Bane has done, but it would have been more effective if he'd actually made a more significant appearance.
What I appreciated most is the fact that this didn't suffer from second book syndrome. Sometimes, the middle book in a trilogy just feels like a trial to get through in order to get to the big stuff in book three. Thomas avoids that by switching up the narrative here - it alternates between the current point in the story in the Sahara (where Titus and Iolanthe have no memories) and earlier in the story in England. Obviously, the two narratives come together to create the complete story, but presenting them this way helps keep the book fresh and interesting. Additionally, the conflict surrounding the prophecy provides a small climax while on the way to the battle with the Bane.
Overall, I very much enjoyed this second installment and am looking forward to the final book in the trilogy. Recommended for fantasy fans!
Thanks to the publisher for a digital advance reader's copy, provided via Edelweiss.