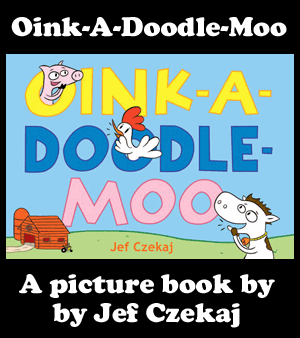 Oink-a-Doodle-Moo!
By Jef Czekaj
Published 2012 by Balzer + Bray
I like Czekaj's books because they often let the reader in on a sly trick or a silly joke. In this case, if you've ever played the game "Telephone," you pretty much know that things are going to go poorly once the message starts being passed around the farmyard. This would be a great storytime read-aloud, if only because it would be so difficult to do so and kids would find your struggles hilarious. The illustrations are simple and complement the story well.
Zorro Gets an Outfit
By Carter Goodrich
Published 2012 by Simon & Schuster Books for Young Readers
Zorro and Mister Bud do pretty much everything together and are treated the same way. Until the unspeakable happens - Zorro receives a cape and hood that he is forced to wear. He is humiliated - even the neighborhood cat makes fun of him as the dogs walk through town together. But will another pooch's outfit change Zorro's mind? Perhaps my favorite thing about this book is Zorro himself. He is rendered so adorably in the illustrations, with the most expressive little doggie face imaginable. I love the story here and think kids would really enjoy this one.
Georgia in Hawaii: When Georgia O'Keeffe Painted What She Pleased
By Amy Novesky, illustrated by Yuyi Morales
Published 2012 by Harcourt Children's Books
Sometimes I wonder how authors get inspired to write picture books about such specific moments in history. This book is a perfect example, recounting the time when renowned artist Georgia O'Keeffe was commissioned by The Hawaiian Pineapple Company to create paintings for them. The company sent O'Keeffe to live in Hawaii and take inspiration from what she found there but apparently crossed the line when they tried to dictate exactly what O'Keeffe's paintings should contain. This is an absolutely gorgeous book, wonderfully capturing the spirit of O'Keeffe, as well as her lush and beautiful artwork. Morales' illustrations are simply divine. Kids will appreciate O'Keeffe's stubbornness and her desire to paint what spoke to her. An author's note, illustrator's note, and map are included, though a bibliography lists only one source.
What to Do If an Elephant Stands On Your Foot
By Michelle Robinson, illustrated by Peter H. Reynolds
Published 2012 by Dial
Y'all - I will praise Peter Reynolds' illustrations until the day I die, so you know why I had to read this one. This is a circular story, similar to Laura Joffe Numeroff's If You Give... series, as well as an interactive story, much like Jan Thomas' books. This book is just begging to be read aloud at storytime - kids will love reacting to the various jungle situations in which the main character ends up. I love that the illustrations set the scene in a simple way - basically I just want Peter Reynolds to illustrate my life. I cannot wait to try this book out on a group of preschoolers and see their reactions.