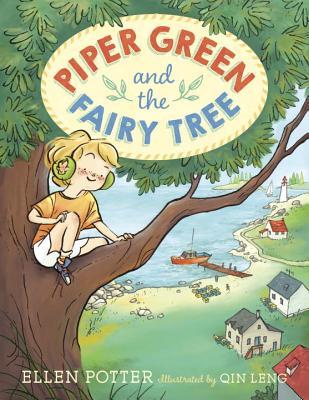 Piper Green and the Fairy Tree
By Ellen Potter, illustrated by Qin Leng
Expected publication August 4, 2015 by Knopf Books for Young Readers
Piper Green rides a lobster boat to school - her island is too small for its own school. She doesn't mind, but this year, everything feels different. And that's before she discover the fairy tree in her front yard.
I don't read a lot of beginning chapter books, though many have caught my eye as I order them. I'm not sure why I don't read them more frequently - they usually only take 20-30 minutes to read through. But, I guess, among all the other books that take up more of my time, I just never squeeze them in. This book was an exception - I saw the e-galley and wanted to read it because it's set on an island off the coast of Maine. I'm a sucker for anything set in my home state.
I don't have a ton to say about this book, particularly since I don't read a lot of these kinds of books. My basis for comparison is quite limited. However, I enjoyed this one quite a bit. Piper is a lovely narrator - she is very realistic and has a great personality. She's quite stubborn, but she's also dealing with a lot of unexpected feelings - her brother is gone and she's starting a new grade (with a surprise new teacher).
The book is easy to read - I think it's great for kids just starting with chapter books (they seem to really enjoy realistic stories at that stage as well). It's fun and amusing and well-written. The illustrations are adorable as well, and definitely kid-friendly. I was a little surprised that the titular fairy tree is really just imaginary, but I think it worked well for the story. I'm looking forward to reading more of Piper's adventures in the future.
Thanks to the publisher for a digital advance reader's copy, provided via Edelweiss.