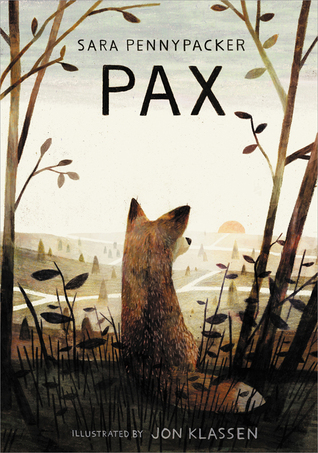 Pax
By Sara Pennypacker, illustrated by Jon Klassen
Published February 2, 2016 by Balzer + Bray
When Pax was an orphaned kit, Peter rescued him. They've been together ever since. Now, though, war has come and Peter must go live with his grandfather. And that means leaving Pax behind. Realizing his mistake, Peter will do anything to get Pax back, not knowing that Pax has begun a journey of his own.
This book has been getting buzz since it was announced, pretty much and, I confess, I was mostly intrigued by the notion of Jon Klassen illustrations (what can I say? I love him). I don't usually go in for animal fantasies, but I thought foxes might be okay - they're pretty intelligent creatures.
I really liked the parallel journeys of Peter and Pax - I actually think I may have enjoyed Pax's story more, but they were both excellent. I liked how similar Peter and Pax were - stubborn but loving, determined and scared. I liked that both were aided in their journeys by complex women - women who may have been mistrustful and a bit broken but who cared for the boys whose paths they crossed. I really loved all the characters - they were extraordinarily real and complicated and I felt for them. Though this is Peter and Pax's story, I thought Vola and Bristle were equally important and I may have loved them even more.
I also really appreciated that this book's setting is never specifically identified. It quite clearly makes the point that war can happen anytime and anywhere - no one is immune from its effects. The story becomes timeless.
I found it a bit on the edge of unbelievable at times, in both Peter and Pax's stories. Pax is a completely tame kit - the likelihood of his survival in the wild seems pretty low, particularly in a war zone. And Peter's stumbles didn't seem realistically paced - I don't think he'd actually have been able to continue on his journey.
But the ending - wow. It's abrupt but real. It wasn't until I read the last page and turned it, realizing that there was no more that I finally shed tears.
Thanks to the publisher for a digital advance reader's copy, provided via Edelweiss.