Bedtime for Monsters
By Ed Vere
Published 2012 by Henry Holt and Co.
Did you ever think there might be monsters? And that maybe their tummies are rumbling for a late-night snack? And maybe that snack might be....YOU?? This is a cute interactive sort of story that would work well in a Halloween/monster storytime. The illustrations make it a little less scary than the text alone might be otherwise. I personally love monsters, so this was a great read for me.
Dog Loves Drawing
By Louise Yates
Published 2012 by Knopf Books for Young Readers
Dog loves books but he is surprised when his aunt sends him a blank one in the mail. With a little imagination, though, soon Dog finds a new love - drawing! This is a great book about imagination and trying something new. The illustrations are gentle and really fit the story. A lovely little book.
Monster Mash
by David Catrow
Published 2012 by Orchard Books
Well, this isn't really BY David Catrow - he's taken the classic and slightly cheesy Halloween song and added his lively and signature illustrations. This is a great book for Halloween storytime and you could even get the kids dancing afterwards by playing the song. The illustrations are the right mix of spooky and silly, so this should be a hit.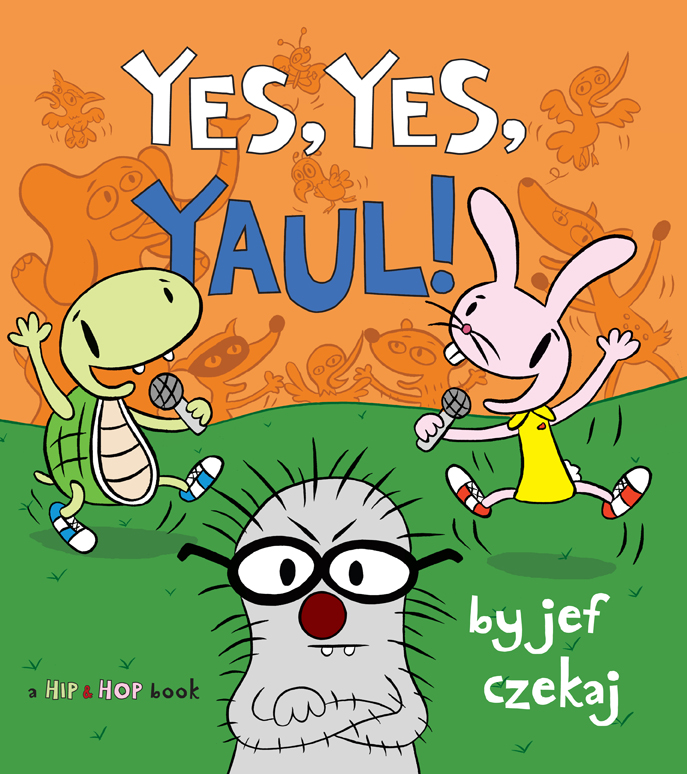 Yes Yes Yaul
By Jef Czekaj
Published 2012 by Hyperion
Yaul the porcupine likes to say "no" - in fact, it's pretty much the only thing he says. But Hip and Hop, a rapping duo, set out to do something about that. Can they get Yaul to say "yes"? While I found this book amusing, I also found a bit ridiculous and I'm not sure that kids will get the humor very well - are there a lot of preschoolers listening to hip hop? That being said, the rhymes are good for phonological awareness and the pictures are in an entertaining style, so maybe it will find its audience.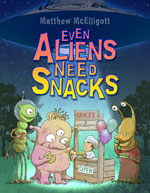 Even Aliens Need Snacks
By Matthew McElligot
Published 2012 by Walker Childrens
When a little boy is told by his sister that no one in the universe would eat the bizarre concoctions he's created, he intends to prove her wrong. His efforts are disappointing at first, but then, in the middle of the night...I thought this book was funny and cute and I think kids will really like the variety of aliens, as well as the snack that each craves.
It's a Tiger!
By David LaRochelle, illustrated by Jeremy Tankard
Published 2012 by Chronicle Books
Let's hear a story. It starts in the jungle, with vines hanging all around but wait! What is that stripy, fluffy vine? IT'S A TIGER! And so begins this simple yet fun romp through the jungle. With vivid illustrations by Tankard and an opportunity for kids to spot the tiger hiding in each scene, this is sure to be a hit with the younger crowd. A delightful book, I think this would work well in a storytime. And there may just be a surprise ending...
Vampirina Ballerina
By Anne Marie Pace, illustrated by LeUyen Pham
Published 2012 by Hyperion
Being a ballerina is hard work. It takes a lot of patience and practice. You may make some mistakes along the way, but if you really want to be a ballerina, you won't give up. I probably would have loved this as a child - combining my love of dancing with my love of scary things (though this vampire is on the not-so-scary side). I think this is a really cute new ballerina story for kids who have seen all the others. The illustrations are lovely. I'm becoming quite a fan of Pham's style.
I Like Old Clothes
By Mary Ann Hoberman, illustrated by Patrice Barton
Published 2012 by Knopf Books for Young Readers
Apparently, this is a new version of a 1976 volume by Hoberman. A love song to hand-me-downs, I wasn't all that excited about this book when I first picked it up. However, the rhyming text has a certain charm and it didn't take long for the book to grow on me. This would work wonderfully in a clothing/getting dressed storytime. The illustrations have the perfect softness that one associates with old clothes. This book snuck up on me and I quite enjoyed it.