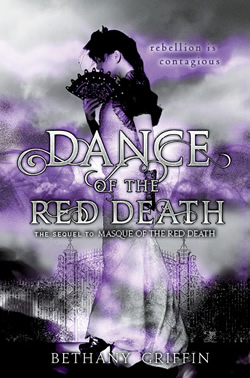 Dance of the Red Death (Masque of the Red Death, book two)
By Bethany Griffin
Published 2013 by Greenwillow Books
WARNING: There may be spoilers for book one. To read my review of that title, go here.
Much has changed in Araby's world but what hasn't is her fierce desire to protect the things she loves. To do this, she must search for the people who've hurt her and destroy them if necessary. At the same time, she must choose which path is right for her.
I had mixed to positive feelings about book one, but I was intrigued enough to want to continue the series, so when I spotted the e-galley, I requested and started reading. I'm a bit underwhelmed by this entry in the series. Some of the things I enjoyed in the first book fell apart a bit in the second, while the things I disliked about the first continued to bother me in the second. I still find Araby a difficult character with which to empathize, making it harder for me to keep wanting to read the story. I found her especially irritating here, as she seemed to spend the majority of her time vacillating between uncontrollable crying and fierce heroine butt-kicking. It just made her character seem even more of a mess than I already found her to be. For me, the strength of this book continues to be the world that Griffin has created - it is messy and harsh and I want to know more about it. This entry in the series gives us more information on how Araby's world got to be such a shambles and I found the developing backstory the most interesting part of this novel. I like that everything is such a mess that it makes me wonder how it will ever be fixed, a problem I'm sure Griffin plans to tackle in book three (if there is even a book three in the works; anyone know how many books are planned for this series?). Actually, I suppose I can see the start of reconstruction at the end, and I wonder if Griffin will end the series here; I think it would work fine that way.
As I mentioned, some of the things I enjoyed in the first book didn't work well for me here in the second. The largest of these was the romantic storyline. While I found it intriguing in book one, leaving me curious about which path Araby would follow, I found it tedious and unnecessarily drawn out here in book two. It's fairly obvious early on in this volume which way Araby is going to go, so most of the speculation and teasing just seems like a waste of time.
In the end, I found this sequel to be disappointing and messy. I think Griffin may have lost her focus with this one.
Thanks to the publisher for a digital advance reader's copy, provided via Edelweiss.