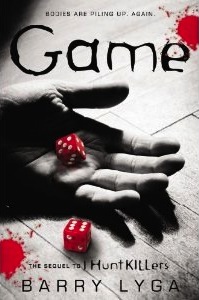 Game (Jasper Dent, book two)
By Barry Lyga
Published 2013 by Little, Brown Books for Young Readers
WARNING: There may be spoilers ahead, including for book one. If you'd like to read my review of I Hunt Killers, go here.
Jasper may have solved the mystery of the bodies piling up in Lobo's Nod but that doesn't mean the world is all of a sudden a bright and shiny happy place. Bodies are now popping up in New York City and police are struggling to crack the cryptic clues. Enter Jazz and his unique expertise - you don't grow up with a serial killer father without learning a thing or two. Will Jazz be able to uncover the mystery of the Hat Dog Killer? And what exactly is in store for him now that his father has escaped from prison?
I Hunt Killers
was one of my absolute favorite books last year, so I was on tenterhooks waiting for the sequel (I even gave it to my mom to read and she loved it, too). I put my name on the waiting list at the library as soon as I could and danced around with the book when it finally came in for me (no, I'm not exaggerating). I'm so pleased to report that I loved this book as much as the first.
One of the things I love about Lyga will always hearken back to my first experience with him -
Boy Toy
. That book is a tough read, but it is truly excellent and I can't recommend it enough. It is a book that has stayed with me since I read it and one I think of often. What made me love that book - and, by extension, Lyga - was his unwavering willingness to push boundaries. That book is not an easy book to read, and I don't think the Jasper Dent books are really any easier. But I truly admire Lyga for not shying away from these tough topics and handling them in interesting and exceptionally well-written ways. For me, the strength of this novel still lies with its main character. Jazz (I still hate that name) is so complicated and unique, and yet, as in the first book, his struggles are universal. What kind of person will I become? Why do I love who I love? Am I ready to commit myself to another person and all that entails? I am just completely engrossed with Jazz's character and want to know more. Once again, the secondary characters are as compelling as Jazz and I loved seeing the exploits of Connie and Howie when Jazz wasn't around. The plot of this book reminded me quite a bit of
The Following
, the TV show that debuted this past season with Kevin Bacon and a cult of serial killers. To be honest, I expected something like this to happen after finishing
I Hunt Killers
- with Billy's escape and his cryptic message to move the birdbath, it was clear to me that some crazy things were about to go down. I still have some hunches about what's in store (Jazz's long-lost aunt?!) and the end of this book had me practically throwing it across the room (CONNIE!!), but once again, I find myself in the torturous place of waiting for the next installment. I can't wait to see what Lyga does next with this story.