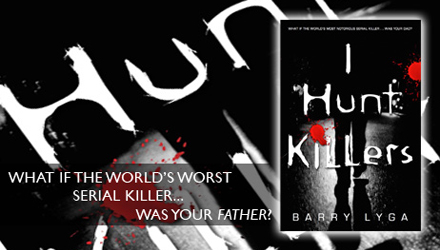 I Hunt Killers (Jasper Dent, book 1)
By Barry Lyga
Published 2012 by Little, Brown Books for Young Readers
What if the world's most notorious serial killer was your dad? That's the reality that Jazz lives with and it makes every day a struggle for him. When a new body appears in Lobo's Nod that bears eerie similarities to his father's crimes, Jazz throws himself into a personal investigation, one that is sure to lead him to danger...
The premise of this book - how can you not want to read it? That tagline, it just speaks to me. I don't think I'm alone in my fascination with serial killers (and seeing as there were numerous books published this year along these lines, I think teens share my fascination). Plus, it's Barry Lyga.
Boy Toy
remains one of my favorite YA novels because of its frankness and willingness to push the boundaries. I expected nothing less of this book and Lyga certainly delivered. Jazz (though I can't stand that name) is a fantastic narrator. Talk about a struggle with one's identity. Jazz spends the majority of the book (and, I imagine, the series) figuring out if he can truly be a good person or if he really is his father's son. He is dealing with the loss of his mother, who is officially just missing, and the struggle to keep the ragged remains of his family (that would be his dementia-ridden grandmother and himself) intact. Ultimately, Jazz's questions about his own identity are the questions all teens are asking of themselves: how does a good person act? If I do this one bad thing, does that mean I have the capacity for evil? How much of my personality is a product of my genetics? Can I really change the things I don't like about myself? Though it's unlikely that many of your readers have serial killers for parents, it is possible that some of them have incarcerated parents or relatives. And, even if they don't, it won't be difficult for teenagers to relate to Jazz's struggle to figure out what kind of person he will be.
As a bonus, the other characters of this novel are equally exciting to read about. I love Howie - I mean, who wouldn't? He provides most of the levity throughout the novel, as he thinks he's much funnier than he actually is. And Connie is certainly a more complex character than one might initially believe. Even G. William is a fantastic addition to the story and I desperately wanted more page time for the man himself, Billy Dent. This book is fast-paced and exciting, suspenseful and clever, and thought-provoking. I highly recommend this - Lyga is a wonderful author. I can't wait for the sequel!
Thanks to the publisher for an advance reader's copy.