Oh No!
By Candace Fleming, illustrated by Eric Rohmann
Published 2012 by Schwartz & Wade
This book has gotten tons of buzz since its publication and it's easy to see why. A simple story told in an interesting way, this has tons of kid appeal and beautiful illustrations. It would work perfectly in storytimes (it practically begs to be read aloud) and also has great vocabulary to introduce to kids. A lovely new book that is sure to delight its audiences.
Bear Has a Story to Tell
By Philip C. Stead, illustrated by Erin E. Stead
Published 2012 by Roaring Brook Press
Another book with a lot of publication buzz (its creators won the Caldecott in 2011), this was a lovely story about Bear, who searches for a friend who will listen to his story. Bear has unfortunate timing, however, as all his friends are preparing to migrate or hibernate. Soon, Bear feels the pull of nature himself. Will he remember his story when he awakes? This would be a wonderful story to read at a pajama storytime or a winter celebration. The illustrations are soft and lovely and speak beautifully to the story.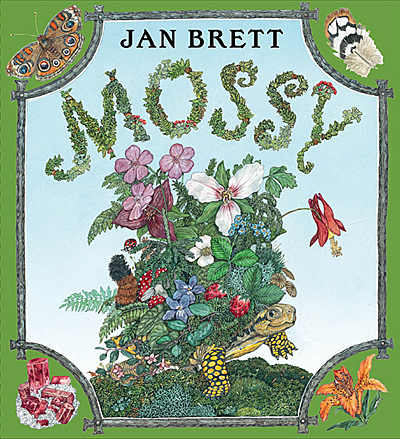 Mossy
By Jan Brett
Published 2012 by Putnam Juvenile
It pains me to say but sometimes Jan Brett is a hit or miss for me. This, her newest, is definitely a hit. Here we have the story of Mossy, an unusual turtle. You see, Mossy has a garden growing on her back. Soon, Mossy is discovered by a scientist and is taken from her pond to be exhibited as the wonder she is. Will Mossy be content in this new life or will she miss being surrounded by the nature that gave birth to her beautiful garden? This is a lovely story that resonates emotionally and is, of course, gorgeously illustrated. Brett's fans will not be disappointed.
A World of Food
By Carl Warner
Published 2012 by Abrams
I must admit, the cover is what drew me to this title. Warner, a photographer, has crafted this strange but compelling little book that imagines what the world would look like if it were all one color. And, to make it more interesting, it's also made of food. I liked discovering what foods were used on each spread and, while some of them are more successful than others, kids will delight in the details of this book. While the text sometimes struggles, the photos are intriguing and imaginative.