I don't think I'm going to keep track of the numbers this year, as I don't think I'll be reviewing as many picture books as I did this past year. But I will always post the picture book reviews on Saturdays, so keep your eyes open for them!
Lovabye Dragon
By Barbara Joose, illustrated by Randy Cecil
Published 2012 by Candlewick
A lonely dragon wishes for a girl; a lonely girl hopes for a dragon. Will the two find each other? This is a cute little story about finding the perfect friend with softly sweet illustrations. I didn't love the story as much as other dragon tales I've read, but it would be nice in a love and friendship storytime.
This is Not My Hat
By Jon Klassen
Published 2012 by Candlewick
The hat is back. This was one of the most anticipated picture book of this year, and it's not hard to see why. I love Klassen's simple story and simple illustration style. I actually enjoyed this one much more than I Want My Hat Back, but I think kids will love them both. I can see this being a great storytime book and a great book to share one on one.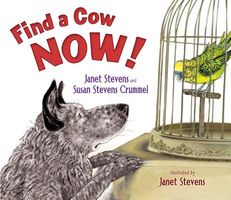 Find a Cow Now!
By Janet Stevens and Susan Stevens Crummel
Published 2012 by Holiday House
I cannot be impartial about this book because it's about an Australian cattle dog - the breed we used to have. This brings back fond memories of being herded by him around our small house. In this book, the dog is restless in the city and embarks on a trip to the country to find something to herd. The kids will like this one as Dog mistakes a number of different animals for cows.
Go, Go Grapes!: A Fruit Chant
By April Pulley Sayre
Published 2012 by Beach Lane Books
I really enjoyed using Sayre's Rah Rah Radishes! in a fruits and veggies themed storytime last year, so I was excited to see the fruit version come across our new book cart. These books are awesome because they are filled with photographs of actual fruit and vegetables, in all their brilliant colors. They include lesser-known foods as well, and it's fun seeing if kids have eaten any of these. It also makes for great vocabulary. I don't know what Sayre will do next but I hope she continues in this vein!