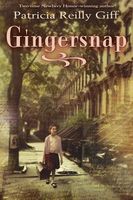 Gingersnap
By Patricia Reilly Giff
Expected publication January 8, 2013 by Wendy Lamb Books
Jayna and Rob are all that's left of their family. But with WWII taking Rob overseas, Jayna is left in the care of their landlady. Before he left, Rob told Jayna a secret: they might have more family, a grandmother, in Brooklyn. When a telegraph arrives with devastating news, Jayna sets out to discover if he's right.
Giff is a pretty prolific author but I'm not sure I've ever read her before. So when I saw her newest title available on Edelweiss, I requested a copy. I liked the historical aspect and the possible supernatural twist (Jayna is guided by a ghostly voice), plus I figured I was overdue on giving Giff a try. I have mixed feelings about this book now that I've finished. I really liked the setting - will anyone ever get tired of WWII settings? I liked the relationship between Jayna and Rob - it was evident that they loved each other and had a great relationship. Though it might be a bit overdone, I liked the use of food as a motif - Jayna makes soup to match her moods, Rob is a great cook and they've talked of opening a restaurant someday, and they both think their grandmother owns a bakery in Brooklyn. What makes this slightly different is how World War II has impacted the availability of certain foods - Jayna's recipes are included throughout the book and they show the bareness of cupboards during the war. I liked Jayna's determination to set out on her own and find that bakery in Brooklyn. What I didn't like as much was the ghostly guide and the discovery of who runs the bakery. Maybe I was reading too quickly, but the reveal of the baker's identity didn't make a whole lot of sense to me. Additionally, I felt like, though the idea of it was partly what appealed to me initially, the ghost felt out of place and didn't really work as a plot device for me. Overall, this was a quick and interesting historical read, but not my favorite. I'd definitely like to try some of Giff's other books and see what I think.
Thanks to the publisher for a digital advance reader's copy, provided via Edelweiss.