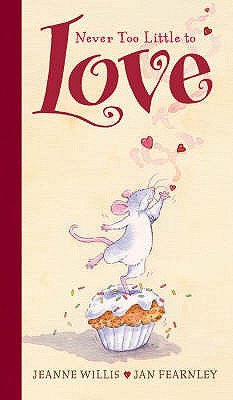 Never Too Little to Love
By Jeanne Willis and Jan Fearnley
Published 2005 by Walker & Company
We got this adorable little book right before Valentine's Day, so you can see how I'm still wretchedly behind on my reviews. The tiny little mouse protagonist of this story is in love. Unfortunately, he is indeed tiny and his love is not. Will he ever find a way to get to his love? This is a very cute cumulative little story and a sweet read for Valentine's Day. The illustrations are charming as well.
Penguin in Love
By Salina Yoon
Published 2013 by Walker Childrens
Okay, I am in love. With Penguin. He is just too adorable! In this installment, Penguin becomes sweet on someone and they help others along the way. These stories are just so cute and kids really like them, so that's a bonus. I love the illustration style and the simplicity of the stories. I've seen some people say they were confused by the story in this one, but I think it works well. I can't wait for more adventures with Penguin.
Catching Kisses
By Amy Gibson, illustrated by Maria van Lieshout
Published 2013 by Feiwel & Friends
Can you tell that we got a bunch of love-themed picture books at the same time? Yes, we were indeed gearing up for Valentine's Day when I read through the new picture books at work. Many of them work any time of year in a love-centric storytime, though. This lovely story takes readers across the country, discovering the many ways kisses are shared. The language is quite beautiful, and I really appreciate the choices that Gibson made, some of them challenging for young readers, but I appreciate that. I really love the illustrations as well. The style is very interesting and appealing. Just a lovely book.