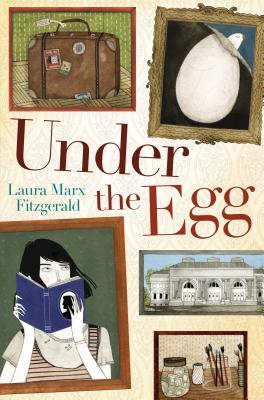 Under the Egg
By Laura Marx Fitzgerald
Published 2014 by Dial
Theodora lives a bit of an unusual life, but she manages. When her grandfather dies unexpectedly, managing gets a big more complicated. However, with his final words, he may have left her a clue to something that could solve all her problems. Can Theo decipher the mystery?
I was delighted when Penguin announced a Young Readers Author Program, where they offer a new title each month and an author chat. So far, I've fallen a bit behind, but I'm still trying to read the titles when I can find a moment.
Under the Egg
is one of those titles, and I was thrilled to see it as the book had already caught my eye.
This tells the story of Theo and the mystery she attempts to solve following the death of her grandfather. She believes that he has given her a clue to locating a treasure, one that will keep her and her mother safe for years to come. Though this turns out to not quite be the case, what Theo uncovers is perhaps even more extraordinary. It's rather recently I've discovered my love of middle-grade mysteries and I am thrilled to see another author (aside from the lovely Blue Balliett and perhaps others I've yet to read) writing an art-related mystery for kids. I think one of the best qualities of a fiction book is its ability to inspire readers to learn more about a particular subject.
Under the Egg
did that for me. It's clear that Fitzgerald did her research and it made me want to delve into the topics and learn more for myself. It made me want to finally finish
The Agony and the Ecstasy
(a fictionalized biography of Michelangelo that I started years ago and then never picked back up) and learn more about the lives of Renaissance artists. It made me want to read about the Monuments Men (and I love that Fitzgerald incorporated this fascinating bit of history into this mystery). I hope that kids will be just as inspired as me to find out more about the many topics Fitzgerald touches upon in this book.
I also really enjoyed Theo, though I did find her a bit too unusual at times. Once again, my main complaint about the book would be the lack of outside involvement/concern regarding Theo's clearly unstable mother - how is no one aware of this problem? And why, when the police arrive towards the novel's conclusion, do they not notice her behavior and question it? I imagine it is likely that there are many children living in our country with mentally unstable parents and managing to keep it hidden, but maybe that truth is too difficult for me to want to acknowledge. I liked the friendship between Theo and Bodhi and I enjoyed that every secondary character had a part to play in solving the mystery.
I will be recommending this to readers in the mood for a mystery this summer and will be looking forward to what Fitzgerald writes next.
Thanks to the publisher for a digital advance reader's copy, provided via NetGalley.