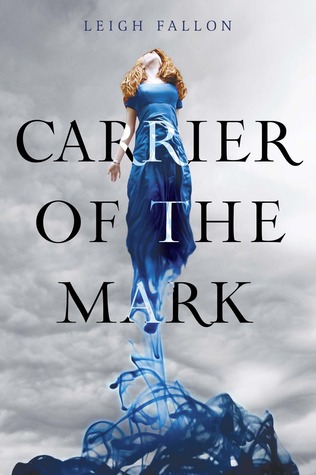 Carrier of the Mark (Carrier, book one)
By Leigh Fallon, read by Nicola Barber
Published 2011 by HarperCollins
Megan is surprised that the move to Ireland seems to have been for the best - she's getting along great with her dad and feels right at home with a new group of friends. She's even caught the eye of the very handsome Adam and it doesn't seem like it will be long before they're a couple. But it's never that simple and Megan is about to discover her complication - she and Adam are part of something ancient and powerful, something with the potential to destroy the world.
So this was a random audiobook download for me earlier this year. I remember seeing this book around, but I didn't know much about it and didn't know anyone who'd read it. I'm willing to give pretty much anything a shot, so there I went.
Perhaps the best I can say for this book is that I enjoyed the reader. Barber does a lovely set of Irish accents that I very much enjoyed listening to. Unfortunately, this book pretty much fails for me on every other account.
It's amazing to me that this book was published in 2011 because it is so clearly derivative of
Twilight
that it's almost painful. I mean, even the small details are the same - girl moves to a remote small town, becomes the object of a strange group's attention, and falls instantly and hopelessly in love with a boy who can not possibly be good for her. I mean, some of the character's names even start with the same letters. While the books are not exact carbon copies, the similarities are remarkable. I realize that, once you find a successful formula, why deviate? But this is pretty extreme.
There are no vampires or werewolves in this version, though, and Megan is found to be one of the "special" people quite quickly (instead of taking four books for Bella's transformation into a vampire). The supernatural piece here is focused on magic and the elements - each member of Megan's group has power over a particular element. They must practice and train to harness the power, and the mixing of the elements must be handled very carefully. This obviously throws a wrench in Megan and Adam's relationship, but they don't seem terribly concerned.
This book definitely has the appeal factors of
Twilight
, so if you have readers that want more of the same, it's safe to point them towards this book. However, for me, not being a fan of Stephanie Meyer's, I didn't really enjoy this one either. If I get bored or in need of some more Irish accents in my life, I might listen to book two, but don't hold your breath.