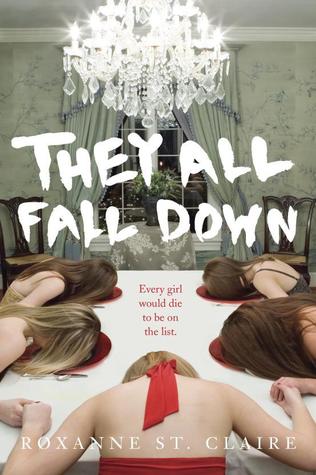 They All Fall Down
By Roxanne St. Claire
Published 2014 by Delacorte Press
Kenzie doesn't know how, but somehow she's made it onto the list - the Hottie List. Every year, ten girls are chosen, and this year, Kenzie is one of them. But when the girls on the list start dying in extraordinary accidents, Kenzie knows she must uncover the list's secrets before it's too late.
I'm just going to say it. The whole reason I downloaded the e-galley of this is because I was hoping for something like old-school Christopher Pike or R.L. Stine - the incredibly cheesy teen "horror" novels I devoured when I was younger. And I think if you're going to read this book, too, that's not a bad way to approach it.
I mean, this book is pretty cheesy. Kenzie (and most of the other characters) is not much more than a cookie-cutter version of a teenager. The whole premise reeks of cheese - a list of hot girls who start to die mysteriously and the one girl who must try to unravel the mystery before it's her turn. It's like a typical slasher flick - the pretty young girls are always the most at risk of being murdered. Of course, St. Claire tries to make it her own with a few details - these murders look like terribly unfortunate accidents. Kenzie, our Final Girl if you will (thank you Carol Clover), is perplexed by her own appearance on the list because she is nerdy and smart (thanks for reinforcing the smart vs. pretty dichotomy, St. Claire). However, of course Kenzie's smarts come in handy as she unravels the mystery of the murders.
There is also a romance thrown in, which I found utterly ridiculous. It seemed mostly to undermine Kenzie's character and give her something extra to worry about because the love interest was also being targeted and in danger. It almost felt like the romance was only there because St. Claire felt it was obligatory to include one.
I will admit that I didn't see the end coming. The truth behind the mystery was definitely a surprise, though I'm not sure how good that is in this case. The reveal feels quite rushed and confusing and continues the general negative tone toward women. The ending sets up pretty clearly for some sort of sequel, but I can't imagine a premise that would make me want to pick it up.
Overall, many of the characterizations and the treatment of women are problematic. The premise and how it plays out is cheesy to the max. If you take it all with a grain of salt, you might enjoy it.
Thanks to the publisher for a digital advance reader's copy, provided via Edelweiss.