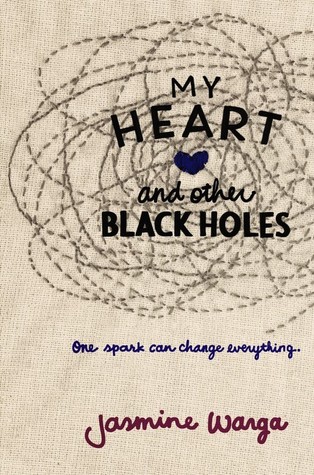 My Heart and Other Black Holes
By Jasmine Warga
Expected publication February 10, 2015 by Balzer + Bray
Aysel is planning her death - she just can't live like this anymore. But she's not sure she can go through with it alone. So, she finds a partner, Roman. But the more time they spend together, the less sure Aysel is about their plan. Will she change her mind? And, if she does, can she change Roman's, too?
If I had known that every YA contemporary 2015 novel I would read in the first two months of this year would deal with suicide and mental illness, I probably wouldn't have requested this ARC. I'm not sure I can really give this book a fair shake; I'm a little burnt-out on books about suicide right now. That's not to say that these books aren't important; in fact, I think the abundance of these books is part of a larger movement to talk more openly about mental illness in general and that's a great thing. But, personally, I'm not sure I can handle another one of these books anytime soon.
I'm not sure I'll be able to give this book a fair shake. I guess, for me, of all the suicide novels I've read lately, this is one of the more forgettable ones. I actually finished it just a couple days ago and am having trouble remembering many of the details. But my major problem with this book is actually the ending. I get that the story is supposed to be sweet, that readers are supposed to root for the romance, and believe in the healing power of love. But it's a dangerous message to be sending to teens, especially coupled with Roman's indignant refusal to talk to someone professionally. I'd love to believe that love really does heal, but I know it's just not true. And it's not okay for a novel for teenagers to posit that all it takes is falling in love and one person truly understanding you to make your sadness go away.
But, once again, maybe this book just comes on the heels of too many others like it. This book has received a number of positive reviews elsewhere, so take that for what it's worth. This book just wasn't for me.
Thanks to the publisher for a digital advance reader's copy, provided via Edelweiss.
ETA: The brilliant and much more eloquent Kelly at Stacked discusses this very topic
here
. Head on over and join the conversation.