The Tooth Fairy Wars
By Kate Coombs, illustrated by Jake Parker
Published 2014 by Atheneum Books for Young Readers
Nathan has just lost his first tooth. Rather than surrender it to the tooth fairy, though, he'd like to hang on to it. Well, the Tooth Fairy is not okay with that plan. Thus begins the war. Who will win? My experience with tooth fairy books is small - I don't remember reading any as a kid and, not having children of my own, haven't seen much of a need to read them as an adult. This one is not your typical tooth fairy tale, so I wanted to check it out. It's an interesting story, but it ends pretty abruptly and some of the story will likely go over the heads of a preschool audience.
The Problem with Not Being Scared of Monsters
By Dan Richards, illustrated by Robert Neubecker
Published 2014 by Boyds Mills
Hmm...I'm not remembering much about this one, though it seems like the story is right there in the title. I think it takes the notion of being afraid of monsters and turns it around. But obviously, there's nothing too spectacular about this one.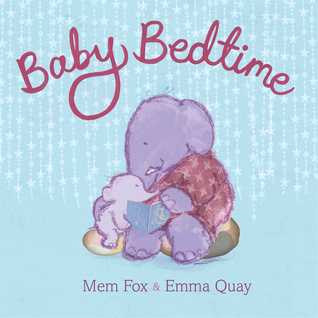 Baby Bedtime
By Mem Fox, illustrated by Emma Quay
Published 2014 by Beach Lane Books
This is a cute book, combining bedtime with declarations of baby love. The elephants are particularly adorable - the illustrations are perfect for a soothing bedtime story. I think this book would work really well in a baby or toddler bedtime storytime. It would also make a good baby shower gift, as it illuminates the love between a parent and child. A very sweet little book.
Why?
By Tracey Corderoy, illustrated by Tim Warnes
Published 2014 by Tiger Tales
A very curious rhino wants to know why. Why does toast make crumbs, why do dropped things smash, why. Even though I'm not a parent, this book rang true. I've seen many parents endlessly answer the questions why from their young children. I'm pretty sure I was one of those inquisitive children myself. I particularly enjoyed the questions that were obviously embarrassing to the little rhino's parents - I've witnessed quite a few of these interactions as well. I like the illustrations - they're bright and eye-catching. A cute and funny story.