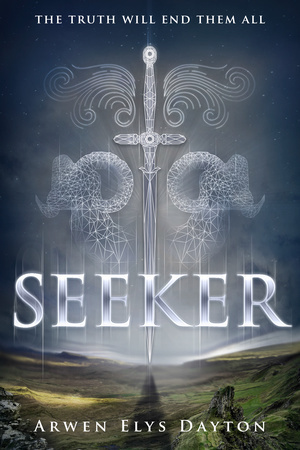 Seeker (Seeker, book one)
By Arwen Elys Dalton
Expected publication February 10, 2015 by Delacorte Books for Young Readers
Quin has been training for years to fulfill her destiny and become a Seeker. Finally, the night of her oath has arrived. But Quin is about to discover that the noble purpose she believed in is a lie and the life she was expecting is not what she's going to get.
I'd hear a bit of buzz about this book and it sounded like something I'd be into (I've discovered exactly how much speculative fiction I read). When I spotted the e-galley available, I downloaded away.
Y'all, I wanted to like this book. I had high hopes for it. It sounded like it had potential to be a really interesting story, though not an unfamiliar one - a girl who's believed in a noble destiny instead discovers she'll be an assassin. But I just can't like this book. Flat out, it's a mess.
I would say at least 50% of the fun of fantasy and speculative fiction, at least for most people, is the world-building. Discovering the complex and unique setting the author has created, learning the rules and quirks of that world - that's part of the joy of this kind of story. And that's why this book is a complete failure. There is almost zero world-building here, and I have a hard time understanding just how Dalton got away with this. I have no sense of exactly when and where this story takes place - sure, you can tell me Scotland or Hong Kong, but is is the Scotland or Hong Kong that exists at this moment in the real world? I couldn't tell you, because apparently Dalton doesn't care to have you know. The entire premise of the book remains unexplained - readers are provided with only the barest of information about the Seekers and the Dreads and what those terms mean. I don't know why they work together. I don't know if there still exists the many different houses of Seekers or if they've died out save the two we're reading about. I know nothing because Dalton tells me nothing.
The characters are flat and uninteresting and the love triangle is, I'm sorry, just a bit icky. I would say this book is probably 75-80% dialogue and action scenes which doesn't strike me as the marks of a good writer. I managed to finish it because it reads pretty quickly, but I have zero interest in coming back for the second installment and I'm not likely to recommend this to readers.
Thanks to the publisher for a digital advance reader's copy, provided via Edelweiss.