Anywhere but Paradise
By Anne Bustard
Published 2015 by Egmont USA
Peggy Sue certainly did not want to move to Hawaii but, unfortunately, she has no choice. Her beloved cat is stuck in quarantine and Kiki, a classmate, relentlessly bullies Peggy Sue. Things only get worse when a tsunami hits and Peggy Sue's parents are unaccounted for.
An ARC of this arrived at my library back in the spring and I set it aside as something I wanted to read before passing it along to the kids. It eventually became the book I read during slow times at the children's desk, so it took me quite some time to finish it. What I liked most about this book was the setting - Hawaii in 1960. I'm hard-pressed to think of another novel set during this same period and in this same place, when Hawaii's statehood was still brand new. I liked learning more about Hawaiian culture and I liked the small historical details peppered throughout. I did think that there could have been more of both - as a whole, the book focuses on small dramas and there were a lot of pieces that I thought would have benefited from being expanded upon. The chapters are very short, making this a quick read during those times I had a chance to read it. A good choice for more unique historical fiction.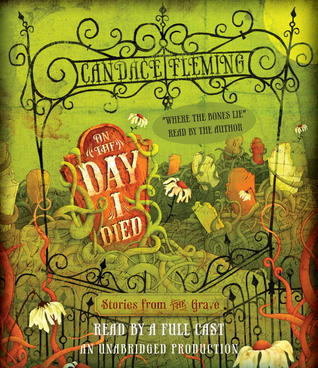 On the Day I Died: Stories from the Grave
By Candace Fleming, read by a full cast
Published 2012 by Listening Library
In a cemetery outside Chicago, a teen finds himself surrounded by ghosts, eager to share their stories. He's in for a long night...
I was in between SYNC titles this summer, so I downloaded this audio, a book I'd been wanting to check out since its publication. Short story collections are often a mixed bag and I think this one was no exception. I enjoyed the variety of time periods covered throughout the stories and the occasional appearance of a historical figure (gangsters play a significant role in one story). I liked that this is basically a newer version of scary story collections I read as a child (though, in this case, you know the outcome of every story since the ghosts are telling them). However, none of the stories were really that scary (I realize I am saying this as an adult person reading a novel intended for middle graders, but I don't think young me would have been frightened either) and some went on a bit long for my taste. Additionally, one line in one story stood out to me so much that I wrote it down: "Having three younger sisters, I had a soft spot for the weak and defenseless." REALLY? That one line bothered me so much that I half tuned out to everything I listened to after it. So, while I'm sure this will appeal to many readers, it was not my favorite.
The Dragon Lantern (The League of Seven, book two)
By Alan Gratz
Published 2015 by Starscape
Archie Dent is convinced that he and his friends are the latest incarnation of the legendary League of Seven. Though he knows they are strongest when together, circumstances will split up the friends as they go in search of answers to questions of their past.
I read the
first book
in this series last summer and enjoyed it enough to anticipate the arrival of book two, so I snatched it up as soon as it arrived at the library this summer. This was the main bright spot in my unfortunate reading slump. The action is once again non-stop, keeping me turning the pages at a furious rate. New characters arrived on the scene and more details about familiar characters were revealed. While I enjoyed the separate adventures occurring simultaneously, it was clear that Archie is meant to be the hero of the series - his adventures had two or three chapters for every one that focused on Hachi and Fergus. There is a lovely twist in this one as well and I continue to be completely fascinated by the world that Gratz has created here. I'm very pleased with this entry in the series and can't wait for the next one!
Crows & Cards
By Joseph Helgerson, read by MacLeod Andrews
Published 2009 by Brilliance Audio
Zeb Crabtree is being booted from his home - sent to apprentice with a great-uncle and ease the burden on his family. Too bad that Zeb sets off on a different path almost immediately, falling in with a riverboat gambler. Zeb soon finds himself stuck in a place he doesn't want to be - can he figure out a way out?
Yet another of the Audiofile SYNC titles for the summer, I downloaded this one because I love historical fiction. I got the feeling from the description that this book might be a bit like
The Mostly True Adventures of Homer P. Figg
, a historical book I quite enjoyed and also listened to. However, though there may be some similarities (a boy sets out on his own path, finding a string of adventures along the way), I didn't enjoy this one as much. I didn't find it as entertaining and it seemed much slower-moving. The adventures that Zeb has are definitely not as exciting as those had by Homer. What I appreciated most was the setting - I liked that this took place right before the Civil War. All in all, though, I found this mostly unremarkable.