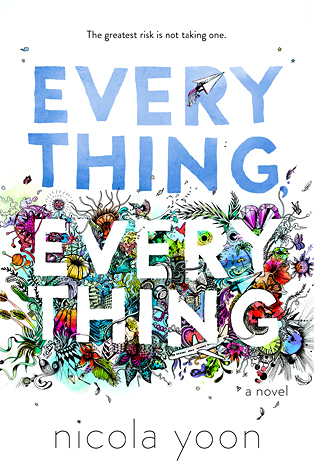 Everything Everything
By Nicola Yoon
Expected publication September 1, 2015 by Delacorte Books for Young Readers
Madeline has lived her entire life in her house. She is allergic to everything, so leaving her house is potentially fatal. Really, though, she doesn't mind too much - until Olly moves in next door. And even though she knows better, Madeline starts talking to him. If you've ever been a teenager, you know this probably isn't going to end well.
So, this book has been getting tons of buzz and I was very pleased to see an e-galley available for download. I snatched it up. On a slow night at work, I started reading it and was immediately sucked in. I couldn't put it down.
Here's the thing: this book was an extremely engaging and quick read. The chapters were short and Madeline's voice was realistic and fascinating to read. Though the story with Olly was pretty predictable, it was hard not to fall in love along with them. I appreciated the diversity and I was really intrigued by Madeline's disease. I enjoyed reading about the everyday details of her life and I found it refreshing that Madeline has such a strong sense of self.
BUT. There is a big twist in this book and it kind of undermined the whole story for me. I don't want to give it away, but I'm not sure I can fully explain my disappointment without spoiling it. What I'll say is this: I would have enjoyed the story much more without the twist. I wanted to see how the story of Madeline and her disease would play out and if a happy ending would be possible for a character like her. The twist made it impossible to follow the story as it began.
While the twist didn't completely ruin the book for me, it did lessen my enjoyment. That being said, though, I think this book will definitely be a hit with teens. I just wish the story had ended where it began.
Thanks to the publisher for a digital advance reader's copy, provided via Edelweiss.