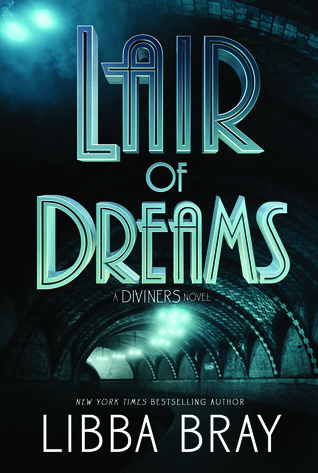 Lair of Dreams (Diviners, book two)
By Libba Bray
Expected publication August 25, 2015 by Little, Brown Books for Young Readers
WARNING: There may be spoilers for book one ahead. Read my review of that title here.
After a showdown with a real-life creepy-crawly, Evie's secret talent is not so secret anymore. Now, she's the "Sweetheart Seer," making a living off of her supernatural gift. But is all of America ready for the Diviners to reveal themselves? At the same time, a mysterious sleeping sickness has hit the city, claiming more and more victims every day. Are the Diviners ready for another showdown?
I don't think I can explain to you how excited I was when I was approved for the e-galley of this. It took all my willpower not to drop everything and start reading it immediately. I've been looking forward to this book for more than two years, after all!
So, perhaps it comes as no surprise that this book failed to live up to my expectations. After completely loving book number one and then waiting (rather impatiently) as the publication date for this was pushed back and pushed back, I was ready to be blown away by book two. And I wasn't. It makes me sad to say it but, for me, this didn't live up to the promise of the first.
While I still love the cast of characters, Evie lost a bit of her charm for me with this one. I think it was all the dithering about Jericho and the flutters she begins to feel for Sam - does there have to be a love triangle? Particularly with a character I view as no-nonsense. It just irked me. Additionally, the stories with each of the characters felt a bit more disjointed in this one - I had a hard time trying to see how they were all going to tie together. I assume that Bray still has some master endgame in which the Diviners must all unite to battle the biggest supernatural baddie of all and save life as we know it, but it was difficult at times to keep that notion in mind while reading this book.
And, speaking of supernatural baddies, after the amazingly creepy Naughty John and the story of the end of the world cult, the villain in this entry fell extremely short. I was not at all creeped out while reading this one and that was a great disappointment to me. I mean, I guess they can't all be mind-numbingly terrifying, but I expected much more horror than I got. Perhaps because of my lack of interest in the villain, this book also seemed to move much more slowly than the first book and I really felt the 600 pages I read to finish it. Bits of this actually felt like filler, which just boggles my mind, but I suppose if I believe in the endgame bit, it'll probably all turn out to be relevant in the end. Despite my disappointment in this entry, I adored book one so much that I will definitely be back for the next installment (which I imagine will take another two years to arrive).
Thanks to the publisher for a digital advance reader's copy, provided via NetGalley.