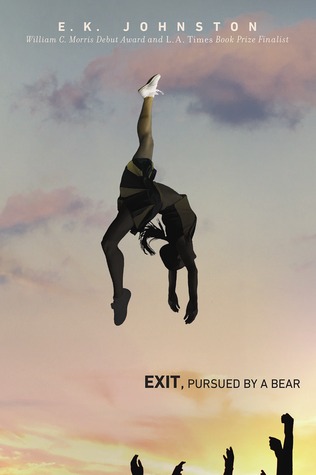 Exit, Pursued by a Bear
By E.K. Johnston
Expected publication March 15, 2016 by Dutton Books for Young Readers
Reviewed from e-ARC
Hermione Winters is co-captain of her cheerleading squad. She's worked for this her whole life so far. She's determined to make this last year the best yet. But when she is sexually assaulted at cheer camp, her perfect final season is shattered.
This book has been getting tons of buzz for many months now, so I greedily requested the digital galley and made sure I read it prior to release.
First, this book is very Canadian. I did not realize that prior to starting it and there are definitely some things that will be completely foreign to a U.S. audience. In no way am I suggesting these things should have been changed for American readers, but there is likely to be confusion about some things. It may take readers out of the story at those points as well.
Second, one of the things I loved most about this book is how completely it is Hermione's story. It is the story of her passion for cheering, her being assaulted, and how she recovers and moves forward with her life after the assault. Yes, the author explores a bit how Hermione's assault affects the lives of people most important to her, but the main focus is Hermione herself. Maybe what I'm trying to say is that I appreciated how little this book focused on the rapist. It's disheartening how shocking it was to read this kind of story - where the victim is truly the focus and the rapist is more in the periphery. I won't spoil anything for you, but my love of this aspect of the book is what made the ending a bit of a let-down for me.
Third, the community of support that Hermione has is amazing. Her parents are both involved and caring and support every decision Hermione makes along her path to recovery. Hermione also has a great group of friends. In particular, her best friend Polly is wonderful. Their friendship is maybe the most kick-ass I've read recently. It made me miss my high school friendships something fierce. Hermione also speaks to a pastor while trying to make sense of things and he is a great figure of support as well.
Fourth, this book is not afraid to address abortion, though the ease with which Hermione is able to obtain one is one of those things that might seem foreign to U.S. readers. But, the scene in the recovery room is maybe one of the most powerful I've ever read.
Ultimately, I think this is a book every teenager and every person who knows a teenager should read. It provides wonderful examples of how to help someone who has experienced this trauma while also being sure to highlight that everyone's experience and recovery will be unique. Highly recommended.
Thanks to the publisher for a digital advance reader's copy, provided via Edelweiss.