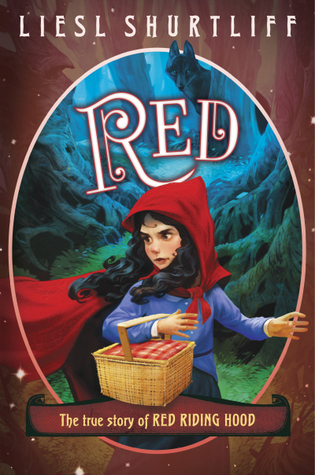 Red: The True Story of Red Riding Hood
By Liesl Shurtliff
Published April 12, 2016 by Knopf Books for Young Readers
Reviewed from e-ARC
Red's granny is the most powerful witch she knows, but Red has sworn off magic herself. When Granny falls ill and magic seems to be her only hope, Red must make the difficult decision to search for a magical cure - after all, she can't lose her granny. Will Red find the way to help?
Having previously read and enjoyed Shurtliff's other fairy tale retellings, I was pleased to see her tackle Red's story in more depth. Red was one of my favorite characters from the earlier titles, so I fully expected to enjoy her solo journey even more.
As with my reading of
Rump
, this one began to feel a bit repetitive and draggy - essentially, Red does the same thing three times, with slight variations. Really, that's a very traditional fairy tale component, but, for some reason, I found it tiresome here. After so looking forward to hearing more about Red's story, I was disappointed to realize that my favorite thing about this book was a new character (her name is Goldie - perhaps she's familiar to you?). Beyond the bits where Red explains why she doesn't practice magic, I felt her character was underdeveloped - most of the book is about her journey and is really just a telling of what she undergoes. It didn't often delve deeper as I would have liked. In fact, most of the secondary characters were more intriguing to me than Red - maybe Shurtliff does that on purpose to guarantee an audience for the next one? Mostly, I'm kidding, but with appearances by Goldie, the Huntsman, and Beauty and the Beast, it wouldn't surprise me.
This is still quite a fun and amusing read and the way Red and Goldie play off each other is quite a joy to read. i also liked Red's connection with the wolf and those appearances by other characters were, as I said, quite intriguing. I just expected to love this more than I did.
Thanks to the publisher for a digital advance reader's copy, provided via Edelweiss.