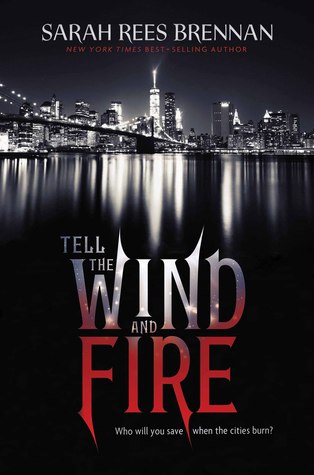 Tell the Wind and Fire
By Sarah Rees Brennan
Published April 5, 2016 by Clarion Books
Reviewed from e-ARC
Lucie was born in the Dark City but escaped with her father some years ago. Since then, she has been living in the Light, becoming a symbol of the Light Council's benevolence (and her relationship with its leader's nephew doesn't hurt). But the balance between Light and Dark has been on the verge for some time now; a revolution is brewing and both sides want to use Lucie. Is she strong enough to make her own decisions?
Perhaps I had unfairly high expectations for this book. After all, I've very much enjoyed the previous books by Brennan that I've read and I've also highly enjoyed the fantasy retellings of classic novels that have come out recently. This book, being a mix of the two (and based on my favorite Dickens' at that!), seemed made for me. But the first sentence of this paragraph probably tells you that this book was not quite all I hoped it would be.
This is not a bad book and the fact that I didn't love it does not mean I didn't enjoy it. In fact, it is the book I chose to begin while on my vacation and it made me wish I had more time to focus on reading it (but only a little - I was in Italy, after all!). It has the same kind of clever and determined heroine I've come to expect from Brennan - as well as a full cast of intriguing and engaging secondary characters. I thought the development of the magic systems and the worldbuiding was fascinating and I wanted to know more about it. I loved the twist toward the end of the book - completely believable and engrossing.
However, this book didn't have - pardon my terrible pun - the same magic for me as the other Brennan books I've enjoyed. I liked it well enough, but I never really got completely swept away in the story. Similarly, I didn't fall for these characters as much as her others - I like Lucie well enough, but Ethan was a bit flat for me (perhaps because most of what we know of him is told to us by the completely impartial Lucie) and Carwyn was interesting but the development of his relationship with Lucie was a bit too convenient for my liking. And, admittedly it's been a while since I've read
A Tale of Two Cities
, but the connection didn't feel as strong as other classic retellings have.
Overall, a good, but not great read. I'll still look forward to the next title Brennan releases. Thanks to the publisher for a digital advance reader's copy, provided via Edelweiss.