For the last Picture Book Saturday of the year, I thought I'd give you a little preview of some books coming to us in 2013.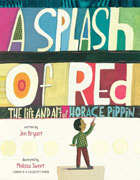 A Splash of Red: The Life and Art of Horace Pippin
By Jen Bryant, illustrated by Melissa Sweet
Expected publication January 8, 2013 by Knopf Books for Young Readers
This is another brilliant and beautiful book by Bryant and Sweet. I love their ability to take a lesser-known historical figure and bring them vibrantly to life in a way that is appealing to kids and informative. They excel at research, as indicated by their excellent back matter. Sweet's illustrations continually blow me away - her ability to adapt to the style of her subject is absolutely wonderful. This is another lovely addition to each woman's body of work.
Goose Needs a Hug
By Tad Hills
Published 2012 by Schwartz & Wade
Okay, so this isn't a 2013 release, but it's the end of the year and this brand-new release might get lost in the holiday shuffle. Another new board book featuring beloved Duck, Goose and friends, this is a simple story of what Goose needs when he's feeling badly. Will he be able to tell his friends what he wants? The illustrations are, as ever, very sweet, and I love the simplicity of these stories.
Snippet the Early Riser
By Bethanie Deeney Murguia
Expected publication March 12, 2013 by Knopf Books for Young Readers
Snippet is a snail. He enjoys typical snail activities: drawing on the sidewalk, eating leaves, and piggyback rides. But Snippet also likes to get up early - and his family does not. I was completely enchanted with Murguia's Zoe Gets Ready, so I was delighted to discover that she has a new title coming next year. This is a sweet story about an early bird snail who will try everything he can think of to wake his family so they can start their day. I think the artwork is lovely and I think kids will enjoy reading about this little snail.
Pirates vs. Cowboys
By Aaron Reynolds, illustrated by David Barneda
Expected publication March 12, 2013 by Knopf Books for Young Readers
Burnt Beard is the fiercest pirate to sail the seas. Black Bob McKraw is a rough and tumble cowboy. What happens when these two meet? This is a cute story of how important communication is and how easy it is for messages to get mixed and situations to escalate. It's a pretty complex story, cleverly disguised as a face-off between pirates and cowboys. There is wonderfully rich vocabulary in here and the pirate-speak and cowboy lingo are highlighted in different colors. This will definitely be a big hit.
Thanks to the publishers for digital advance reader's copies, provided via Edelweiss.