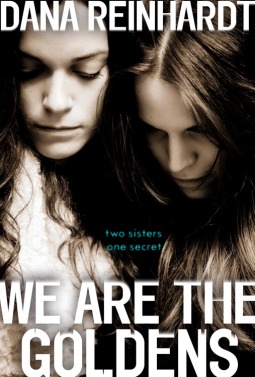 We Are the Goldens
By Dana Reinhardt
Expected publication May 27, 2014 by Wendy Lamb Books
Nell and Layla are so close in are that when they were younger, Nell didn't think of herself as a person separate from her sister. But, they've grown older and further apart. And now,
Nell knows a secret about Layla, one that could change their lives if she tells. So...will she?
It's kind of amazing to me that this is the first book by Reinhardt that I've read - she's been on my radar for a while but I just haven't gotten around to her. When I spotted the galley of this available on Edelweiss, I downloaded it, thinking I'd get to it if I found the time. Well, on a recent weekend of binge reading, I did.
I feel pretty ambivalent about this book and I feel a little bad about that, though I couldn't tell you why. Obviously not every book is for every reader and I think this will have its readers; I just don't appear to be one of them. That's not to say I didn't like the book. As I said, I feel pretty ambivalent about it, but I did finish it in one afternoon, so there must be something there. What I think this book has going for it is the perspective. Choosing to tell the story from Nell's perspective and as a letter to Layla gives the whole story a greater sense of urgency and immediacy than it would have had otherwise. Additionally, the relationship between the sisters leads to an interesting take on the story. I appreciated that, while the story with Layla is clearly the bigger of the two, Nell also had things of her own to figure out throughout the novel's course. She wasn't simply an observer to Layla's actions; she was living her own life. It's also interesting to think about how Nell's choices and missteps may have impacted her reactions to Layla's secret - I think teens will appreciate the nuance of this.
However, for me, the secret wasn't much of a secret. It was obvious very early on what direction the story was going in and, while I was still interested to see how it would play out, I couldn't help thinking "this story has been told better in other books." Maybe that's why I feel badly about my ambivalence - it seems kind of harsh when I put it that way. Frankly, though, it's true. Other than its unique perspective, I'm not sure this book has much going for it that hasn't been done better in other books that deal with the same topic.
Unfortunately, I was mostly underwhelmed with this book. It does have an interesting voice to it, one that I think will drive readers to pick it up. Hopefully they will be more pleased with the results than I was. Thanks to the publisher for a digital advance reader's copy, provided via Edelweiss.