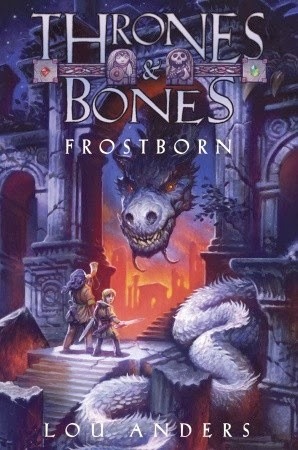 Frostborn (Thrones & Bones, book one)
By Lou Anders
Expected publication August 5, 2014 by Crown Books for Young Readers
Karn's destiny is clear - someday he will be hauld of his family farm in Norrongard. Unfortunately, all he wants is to explore more of the world. Thianna's destiny is not so clear - half human, half frost giant, she doesn't feel completely comfortable in either world. They don't know each other yet, but their paths are about to cross in ways neither could have imagined.
When an ARC of this showed up at my library, I snagged it, wanting to give it a quick read before adding it to our pile of prize books. I'm always trying to read more middle-grade titles and I really liked the Norse setting.
I quite enjoyed this story. I instantly empathized with both Karn and Thianna - though the details of their struggles are unique, the feelings they evoke will be extremely easy for tweens to relate to. The awkwardness of trying to fit in, dealing with bullies, questioning family responsibilities - all things that kids in the middle grades will be experiencing. I particularly liked Karn's obsession with the board game Thrones and Bones - and I loved seeing how his knowledge of it came into play throughout the action in the story.
The plot moves quickly, which works extremely well in a middle-grade fantasy. There is never a dull moment and I think kids will love the ride that Anders brings them on. I mean, there are frost giants, dragons, trolls, and undead soldiers - it's a fast-paced and creature-filled adventure. The ways in which Karn and Thianna's fates become intertwined works well also. I liked how quickly they came to rely on and care for each other. I think Anders has created a unique world that kids will enjoy exploring - I loved that he even included instructions for Thrones and Bones at the end of the book!
What I'm a little unclear about is this being book one of a series. The main plot of this book is wrapped up quite nicely by the end. I can definitely see a way for Thianna's story to continue, as she wants to unravel the mystery of her mother, but Karn's is a little more difficult to see. I suppose he could join Thianna on her quest at a later time, but that might feel a bit inauthentic. I suppose I'll have to wait for a synopsis of book two to see just what Anders has in mind!
I will definitely be recommending this to my fantasy-loving tweens and I think it will easily find its audience. Thanks to the publisher for an advance reader's copy.