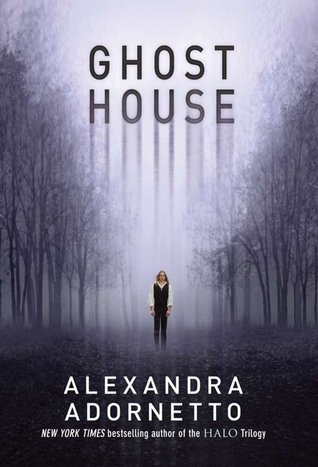 Ghost House (Ghost House Saga, book one)
By Alexandra Adornetto
Expected publication August 26, 2014 by HarperTeen
After the death of her mother, Chloe and her brother are sent to stay with their very English grandmother on her very English countryside estate. There's just one problem: Chloe can see ghosts. And one of the ghosts at Grange Hall is not excited that Chloe has come to stay.
Here is another in my string of extremely disappointing young adult ghost stories. I'm not even sure how much I can review this one because I'm just tired of writing the same thing about these stories. I think the main difference with this one is that it's a poorly written romance disguised as a ghost story. So I guess at least that's a little change of pace.
I thought the book was okay in the beginning - Chloe and her family learning to deal with their grief. I mean, it still wasn't anything super special, but it was working okay (though I did find it quite strange and unnecessary that the facts of Chloe's mother's death are obscured for so long). But then we get to the ghosty part and it just all falls to pieces.
Because not only is it a poorly written ghost story. It's a poorly written INSTA-LOVE ghost story. With a ghost. Right. Did you get that clearly? Chloe falls completely and desperately (and quite pathetically) in love with a ghost. Of course, she doesn't realize he's a ghost at first, so I guess that makes it okay? Or it's supposed to anyway.
And then it just gets even more trite and ridiculous. Because ghost boys poltergeisty former paramour is having none of this business and makes it her undead mission to destroy Chloe and maybe her kid brother while she's at it. I mean, I'm not rooting for the evil, crazy, possessive spirit, but the ghost that Chloe loves? Not such a great guy either.
Sometimes when a book is really bad, I finish reading it and I love it (because I truly love and appreciate things that are so awful, they're amazing). This book never gets to that level, instead remaining on the tedious just plain bad plateau. And the twist at the end that sets this up for future volumes? DON'T EVEN GET ME STARTED.
To be quite honest, though, this book will find its fans and, if you're a librarian worth your salt, you'll be able to tell what kind of readers will be interested in this one. Fans of over-the-top impossible romance, start your queue here.
Thanks to the publisher for a digital advance reader's copy, provided via NetGalley.