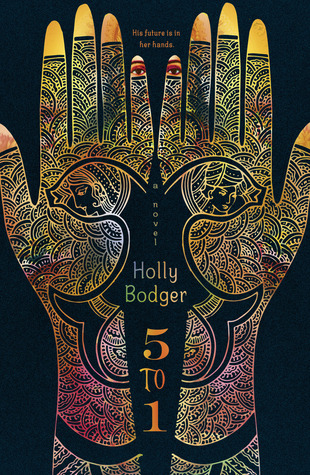 5 to 1
By Holly Bodger
Expected publication May 12, 2015 by Knopf Books for Young Readers
Sudasa lives in a world where women are highly valued; after all, there is only one of them for every five boys. Because of this, a series of tests has emerged, allowing each boy a chance to prove his worthiness for a wife. But Sudasa is not content with this version of her future. And neither is Kiran, one of the boys undergoing the tests for a chance to win her. Can they find a way to change the path that has been laid out for them?
My interest in this one was piqued by the premise, particularly when I thought of it in relation to countries that not only value men above women (which, I'm sorry, but that's the vast majority of them), but also institute policies like China's one-child policy. It wasn't hard for me to imagine the premise of this novel actually coming to pass in a not too distant future. I was even more intrigued by discovering this was partly in verse, a particular weakness of mine.
Despite my initial interest in this book, I find myself at a bit of a loss when it comes to pinpointing my feelings about it. I enjoyed the dual narration, and I liked the contrast of the verse and the prose. I liked that this book provided a glimpse into a future that truly seems possible - as unsettling as that may be to realize. And I was eager for a YA novel set in a culture we don't usually see a lot of in teen fiction.
But. I felt like there was a lot of missed opportunity here. The book doesn't focus on anything but the Tests that Sudasa and Kiran are participating in and takes place over the course of only a few days. I longed to see more of the culture and world. The explanation for how the Tests came to be is there, but I felt like it could have been fleshed out more fully, and could have highlighted even more of the important issues surrounding a practice such as the one described here. I wanted to know more about Sudasa's family's involvement in the creation of the state in which they live and I wanted to know more about Kiran's family as well.
Quite honestly, I didn't buy into the understanding that blossoms between Sudasa and Kiran either - they barely speak to each other, but seem to instantly know what the other is trying to subtly say or how the other feels. It just felt a bit too convenient and forced for me. Additionally, I felt the ending was a bit abrupt and unsatisfactory. It perhaps foretells a sequel, so I suppose I'll see if my inklings about that are accurate.
Overall, a quick and thought-provoking read, but I think it fell a bit short.
Thanks to the publisher for a digital advance reader's copy, provided via Edelweiss.