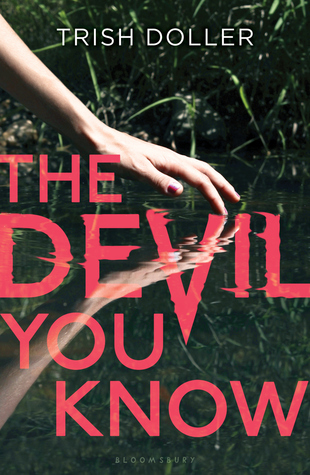 The Devil You Know
By Trish Doller
Expected publication June 2, 2015 by Bloomsbury USA Children's Books
Arcadia craves adventure. Since her mother died, it's been her, her father and her younger brother and guess who's been the one doing most of the parenting? So, when she meets a pair of good-looking cousins at a party, she sees the opportunity to let loose a little. And when they invite her and a friend on a spontaneous road trip, Cadie decides to seize the moment. Unfortunately, one of the guys is not who he seems - he might, in fact, be a killer.
This book has been getting quite a bit of buzz and I'd heard good things about Doller's previous novels so when I saw I was auto-approved for this on NetGalley, I downloaded and dived in right away.
I'm pretty conflicted about this one. On the positive side, I really liked Cadie and it was incredibly easy to relate to her struggles, even though I didn't go through anything quite like she did. I think a lot of teens these days will understand her desire to please everyone and the frustration that comes along with trying so hard to be perfect all the time. Cadie's mom has also instilled some great values in her and Cadie is not afraid to voice her opinions. This means, as a whole, the book is pretty feminist and sex-positive, which I think is absolutely what teens need to hear. Additionally, this book screams summer in the best way - campfire parties, a little misbehaving, steamy weather, refreshing water, spontaneous road trips. It made me miss my teenage summers. Another bonus is the awesome chemistry between Cadie and her mysterious men - this book is swoon-inducing and will definitely make you want to curl up with someone.
But, on the not so positive, this book is completely predictable. I mean, I am notoriously bad at guessing twists but I saw this one coming almost from the first instant the boys are introduced. Additionally, the thriller aspect of the story doesn't really kick into gear until the last 50 pages or thereabouts, so for readers looking forward to this aspect of the novel, they'll have to spend quite some time waiting on it. The good news is that this book is fast-paced and easy to devour, so it shouldn't take interested readers too long to get to the thriller part.
Ultimately, I enjoyed it, though I wish the twist had been a bit less obvious. I'm definitely interested in reading Doller's other books, particularly since I think the most successful parts of this one were in the first part of the book (the more contemporary realistic part).
Thanks to the publisher for a digital advance reader's copy, provided via NetGalley.